Nick Robinson blogging at blogs.bbc.co.uk
This week chief BBC political correspondent Nick Robinson has started his blog. A while back then-editor Pete Clifton stopped journalists calling things "blogs" on the BBC News site unless they really were blogs. Well, Nick's newslog has all the proper hallmarks of a genuine blog.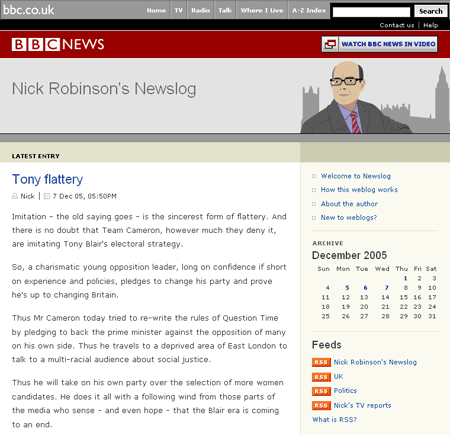 Not least of which because it is being hosted by a proper blogging company - Six Apart. This is quite new territory for the BBC, although not completely uncharted. Faced with the inability of the BBC's internal systems to provide a fully functional blog platform in time, Paul Mason from Newsnight set up the Newsnig8t Blog on Typepad. I detect the hand of the post-Graf review BBC in this - instead of assuming that the requirements were complex or we had to do integration and therefore something was easier to build ourselves, the BBC has instead gone to an external company and said "You've almost got what we want, but..." and got the necessary modifications done.
Two things stood out for me. The first is that the early posts guiding users into this world of 'blogs' were all very well written.
It might be worth explaining a little about how this weblog works. When you come to the Newslog front page, which you will always be able to access at bbc.co.uk/nickrobinson you will see all the latest entries I have written, with the most recent at the top of the page. Scroll down the page for previous entries.

On the right hand side of the page, you'll see a calendar. When any date on that calendar is blue, that means there was one or more entry published on that day. Click on the date and the page will display that day's items.

At the bottom of each entry are two words - "permalink" and "comments".

* Permalink simply means "permanent link", and is useful if you want to bookmark a particular entry, or send it by e-mail to a friend.
* "Comments" means just that. Click on it, and you will be able to add your comments to that particular entry - more of which in a little while.
I also think Nick's advice on RSS is beautifully phrased - whilst capturing exactly the problems that prevent it, so far, gaining mainstream adoption.
I also want to say a word about RSS. You might have seen a little orange rectangle with these letters on other BBC News pages and on other websites, but you might not know what it's about.

Put simply, if a site provides an RSS link, it means you can see its entries in a much quicker way than coming to the website. You can, for instance, see an automatically updated list of headlines in your "bookmarks" folder, if you use an internet browser such as Firefox. Or you might use a specific program to browse lots of sites quickly.

There's lots more about how RSS can make browsing the internet easier on this page, but my tip is that you should do what I did and ask a friend who knows how to use it to show you. Once you see it in action, you'll not go back.
The second thing I noticed was a very marked shift in the way the BBC links out to other sites. For the first time the BBC is feely linking out to the websites owned by the people who have made the comments. As the comments are being pre-moderated I assume the URLs are as well, but it is a remarkable shift for us. On our message boards it is only in the last 12 months that we started allowing users to link out to external sites, and then those links are expected to be part of a valuable contribution to a thread, rather than simply a 'click on my name for my site' attribution style link.
It was a shrewd move by the homepage team to be promoting Nick's blog on Tuesday, when we knew we were expecting the schedule to be interrupted by the political news of the new leader of the Conservative party being announced. This saw the page move from the Nick's blog promo, to breaking news, to a properly prepared and picture edited story about David Cameron getting the voters nod. (I note the text mentions neither Cameron or Davis, but relied simply on choosing the right image to convey the result). It was also nice to see the homepage linking directly to this article on h2g2 about blogs. I love it when the BBC feels free to promote user-generated content like that.