Trafalgar 200 on the BBC Homepage
Today the BBC homepage has had a special promo and semi-permanent panel to mark the celebrations for the anniversary of the Battle of Trafalgar.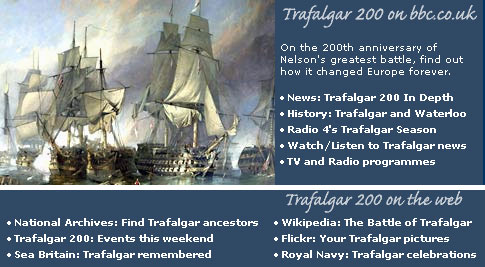 The editorial team took an approach to the topic that I hadn't seen on the page before - using the main promo area to promote the BBC's Trafalgar related content, and using the panel underneath to focus solely on external web content, including links to the official Traflagar celebration site, the Sea Britain 2005 festival site, a Flickr group, a Wikipedia entry, events at the National Gallery and to the present day Royal Navy. I'll be keen to see what the click-through statistics look like after the weekend.