Dinosaur Fun at the Natural History Museum
Now I may be a grown-up, but a bit of me is still at heart a kid in awe of dinosaurs. A couple of weeks back I spent a while at the Natural History Museum, where the dinosaur fossils are still the main attraction. A group of us went, including a two year old and a four year old, so in truth we spent more time running around on the grass outside playing frisbee than improving our collective scientific knowledge, but it was a very enjoyable day nonetheless.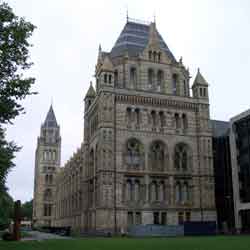 Some of the exhibits are acknowledged to be a little worse for wear. There is a long corridor of stuffed animals looking rather threadbare in places. A note alongside the exhibition says something to the effect that they are still on display in a tatty condition because the museum doesn't really want to commission new stuffed wildlife. There is also one stuffed sheep with one of the silliest expressions I have seen on a museum exhibit.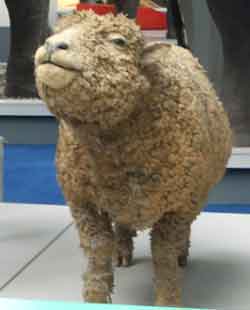 A couple of things struck me during the visit. The dinosaur display forces the visitors onto a walkway suspended above the exhibits, which actually serves to make it seem a lot busier than it actually is. Even as an adult though, I still get surprised by how big they are in-the-flesh (so to speak). The animatronic T Rex also did the trick of scaring the children and entertaining the adults.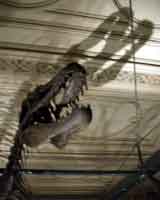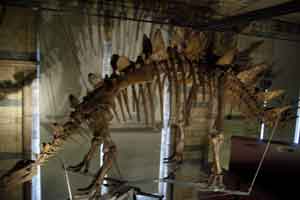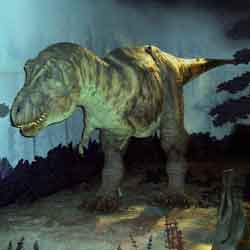 I also realised that my love of the media is greater than my love of dinosaurs now - my favourite bit of the exhibition is near the end, where a TV screen plays a loop of multiple cartoon and film clips of dinosaurs through the years (Flintstones, Godzilla etc), surrounded by massive pop art billboards.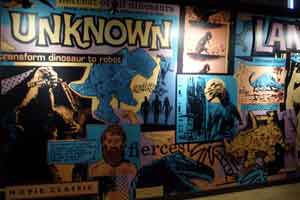 For me the most interesting thing is the change in the way that dinosaurs have been understood. Everything I ever knew about dinosaurs was learned from a St Michael book of Dinosaurs I must have got for Christmas or my Birthday when I was a youngster.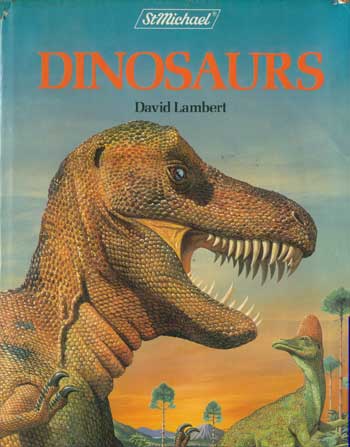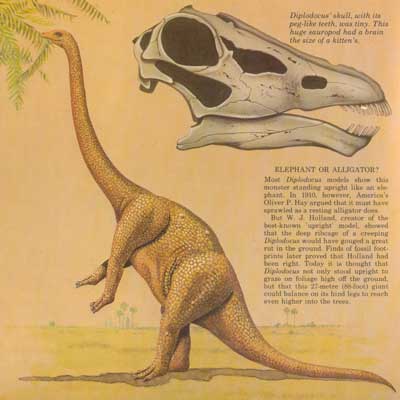 When I was clearing out some books recently I thought I would give it to my nephew, but a quick glance through revealed it to be all wrong. There was little mention of the potential for dinosaurs to be related to birds, except for one fleeting appearance of Archaeopteryx in two diagrams.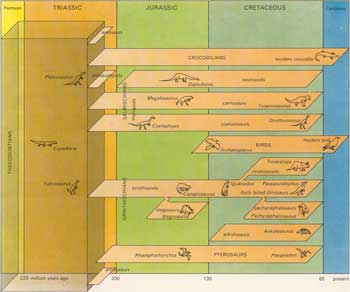 Mind you I'm sure that has always been the same - back in 1854 Waterhouse Hawkins' sculptures ended up with thumb bones on their noses.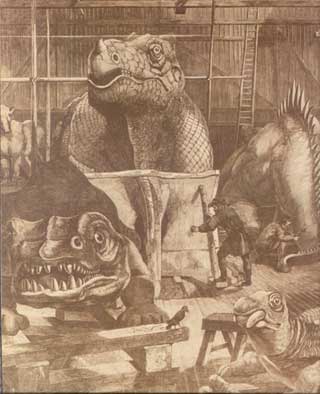 The other thing I saw of note in the Natural History Museum was the temporary exhibition - Face to Face - Photography by James Mollison. It consists of giant portraits of great apes. The photographs were blown up to a large size, and the hall was lit so that each apes face appeared in a spotlight in an otherwise low-lit room. Reading the stories of the treatment of these beautiful animals that look so much like us was quite moving, for example.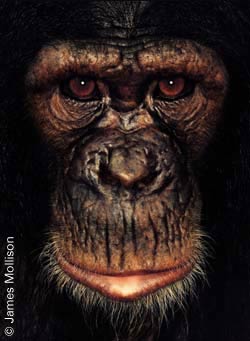 Chim (above), aged 5. Parents killed for bushmeat trade. Left at sanctuary by Cameroonian environmental journalist who had kept her like a child, dressed her, bathed her, etc. Bad mouth injury, riddled with worms. Had been made to dance in order to receive food. Still dances when not fed on demand.

Pumbu, aged 8. Parents killed for bushmeat trade. Confiscated from vendor in Pointe Noire. Aged about nine months on arrival. Scar above right eye, two healed cuts on left hand, very thin, coughing a lot, obviously scared. Drank one bowl of milk, one bowl of water, ate one banana. Slept well during night, a lot of scratching, possible mites problem. Recovered health with help of surrogate mother at Projet Protection des Gorilles.
Worth a visit before it closes on September 18th.