Speedway in Cardiff, and White City
At the weekend I journeyed to Cardiff with my dad and brother-in-law to see the British Grand Prix of the Speedway Individual World Championship, which was being held at the Millennium Stadium. I can honestly say I don't think I have ever been to anything so loud in my life, and that includes seeing Swans back in the 80's when sheer volume seemed their only motivation. With the roof closed the sound of the bikes echoed around the stadium, accompanied by a constant barrage of blasts from the air horns that every single child in the crowd (and quite a few of the adults) seemed to have. When we sat down and saw that most other people around us were wearing ear-plugs we figured something was up.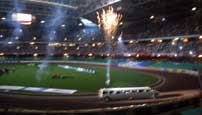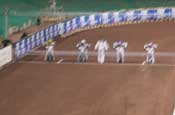 The racing itself was fun. I'm not a big fan, and haven't been for years, since my dad would have taken me when I was a kid, nor do I watch it on TV, but I really enjoyed it. It takes some strength and skill to throw a bike with no brakes or gears around at an average of 60kph. The money that Sky have recently pumped into the sport was well in evidence, with ridiculously over-the-top entrances for the riders, Bjorn Again as the warm-up act, and a finale that featured a spectacular indoor fireworks display.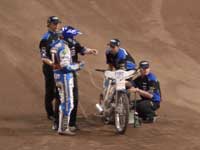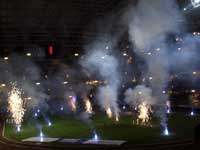 Not so spectacular was Merthyr Tydfil, where we were staying, having arranged our travel late and failed to find a hotel in Cardiff for the night. Merthyr didn't seem to have much going for it except for a massive 24 hour Tesco, and a single track train line running out of town, which seemed to be a magnet for every teenager in the district. The return train service finished before the speedway, so we managed to get as far as Pontypridd before I had to use the cab-radar on my phone to locate a taxi firm. Fair play to them, the guy said we would get home quicker if we just waited around the station for a cab, rather than wait for him to send a car - I'm sure in London we would have been told to wait the 20 minutes and then get charged extra for the privilege ;-)
Funny enough it turned out in conversation that my dad had been a much bigger speedway fan in his youth than I had realised, traveling to away fixtures at places like Kings Lynn, as well as to the tracks in London which included Walthamstow, Hackney, West Ham and Wimbledon, as well as White City. When racing was held at White City it was apparently at the Empire Stadium - on the grounds of which my office is situated. It is odd to think that 40 years ago my dad was watching speedway at the location I now work at.