I've mentioned before that at Christmas I bought my wife a book called "Walking Haunted London" by Richard Jones (who kindly posted a comment on my last ghost walk commentary), hoping we could learn more about London, and maybe capture a spooky experience at the same time. It also turns out that most of the haunted locations in London seem to be pubs, so it is quite a pleasant way to spend a Sunday afternoon in my book.
This weekend we headed to Chiswick on Sunday afternoon, for a walk that started at Turnham Green station, with the first stop being The Tabard Inn. It is a really sweet little pub, apparently named after the pub in Chaucer's Canterbury Tales, with an interior that retains floral tiled decoration. The ghost here is alleged to be a woman who sits apparently whistling, but making no sound. Well, we didn't see her, and we also decided it was too early for lunch, so we headed off.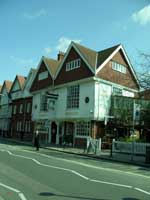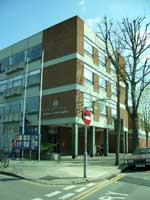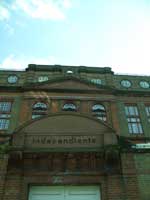 Whilst much of the walk is through either very pleasant streets, or slightly creepy narrow passages, unfortunately several of the haunted locations on this walk have been either re-built or transformed. Prime examples of this are the modern day Police station, or the converted-to-luxury-flats warehouse - and they haven't had any reported phenomena for some time.
In fairness to the book it does describe a large chunk in the middle of the walk as uneventful, but we learnt a lesson as we left the unhaunted, so unlisted, Barley Mow pub behind, intending to stop at the next food outlet for our lunch. We then embarked on what must surely be one of the longest walks along main roads you can do in London without a single retail outfit, until we found ourselves in the grounds of Chiswick House. The fact that finding food was now our main priority was only exacerbated by the fact that the haunting in the house takes the form of the smell of bacon'n'eggs!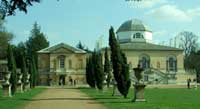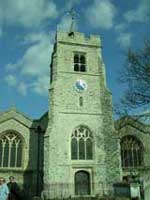 Our next stop was at St Nicholas Church, parts of which date back to the 15th century. The supposedly haunted graveyard is still in quite good order, but seemed a little unimpressive compared to Highgate Cemetery last week. But then I guess anything would.
The walk eventually takes a turn by the side of the river Thames, where geese and ducks were serenely swimming in the middle of the road next to a sign helpfully pointing out that the area was liable to flooding.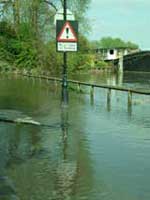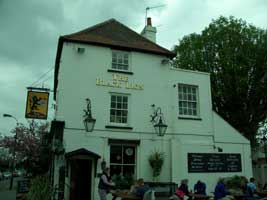 We finished up at The Black Lion pub, by now very much ready for some food. However, despite advertising that food was served until 5pm we found the kitchens to be closed when we tried to order just after 4. So having supped our beer our Sunday lunch out transpired to be wolfing down some crisps as we walked back to Stamford Brook tube where we headed back.
So, apart from the amazing time-shifting properties of the kitchen clock at The Black Lion, did we experience anything strange or mysterious?
Well, the only potentially supernatural moment came when we couldn't work out whether a figure in the distance in the St Nicholas graveyard was a statue or a person. Eventually we walked nearly the breadth of the graveyard to establish it was a statue, despite both of us on occasions thinking we saw the figure move. The only other slightly mysterious thing was quite secular in nature - whilst walking down Bedford Road we saw an unfamiliar bird fly down the street and settle in a tree. We are fairly certain it was a Hoopoe, though niether of us had seen one in the UK before.