Can you be right wing, pro-hunt AND pro-violent protest?
I'm looking forward to both The Telegraph and the Daily Mail tomorrow.
Violent protests are usually pretty clear cut from their point of view - the domain of left-wing agitators who stand against civilisation. Think the miners. Think the poll tax riots. Think of the sacrilege of a green mohican on Churchill's head. Think that every time violence erupts it is blamed on violent protesters not ill-treatment by the police, even if the police have illegally detained hundreds of innocent people for hours on end.
And the pro-hunt lobbey are good old traditionalists who simply want to find a way to pursue their chosen activity free from the interference of government.
So what possible editorial line can they hold tomorrow after today's pro-hunt protests broke into bloody violence followed by the storming of the Houses of Parliament?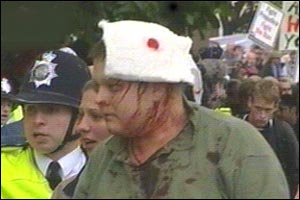 Added September 16th: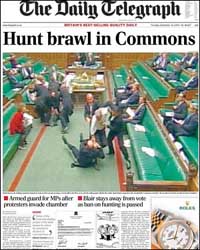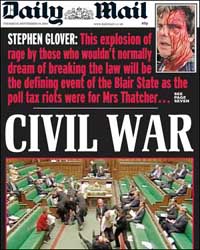 So, nicely understated from the Mail then.