Radio Five Live Veteran's Vote
"Over the weekend it became clear that the vote on the website was being attacked, and the sheer volume of fictitious votes meant it had to be taken down to protect the rest of the BBC website."
And with those words this morning, Radio Five Live Breakfast presenter Shelagh Fogarty explained how my weekend had turned from a planned quiet one taking in the Eurovision Song Contest, a film and a relaxed braai, to one where I was on the phone to interactive producers in Television Centre, and writing an explanation of what was going on whilst trying to watch the last games of the Premiership season on Saturday afternoon.
Five Live's end of season Veteran's Vote to find the best over-35 footballer of the year proved to be more popular than we bargained for. One set of fans in particular led a concerted campaign to rig the vote. Eventually the servers were taking such a hammering from them we had to pull the plug on the vote, and the programme re-ran the contest this morning during the course of the show via text message and email.
It seemed to me a shame that one group of people were so determined to see their player win they didn't care about depriving other fans of their voice, or that a victory obtained by attempted vote rigging would be a hollow one. For the record, the re-run vote was won by David Eyres who plays for Oldham Athletic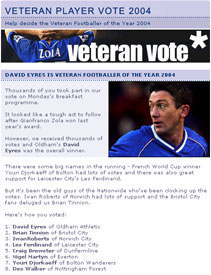 But the final words should go to presenter Nicky Campbell, who this morning said:
"Yes, there was some internetery-jiggery-pokery going on."