The Sunday papers and URLs
The other week I wondered why newspapers still need a distinct name on a Sunday in a digital age. I thought I'd have a look at how the existing titles handle their URL and domain name strategy.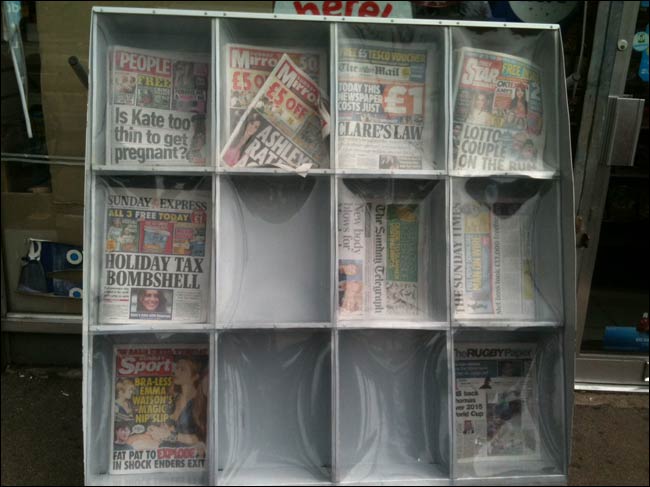 People
Site hosted at people.co.uk. Individual stories served from people.co.uk. No equivalent daily. Online it is awkwardly up against celebrity site People.com covering much of the same territory
Sunday Mirror
Front page with Sunday Mirror masthead at mirror.co.uk/sunday-mirror/. Stories served from mirror.co.uk. Home link on the Sunday Mirror front goes to main mirror.co.uk front page. Sunday stories included on main front. There is no link back to the Sunday edition in the main site navigation.
Mail on Sunday
Front page with Sunday masthead at dailymail.co.uk/mailonsunday/index.html. Stories served from dailymail.co.uk. Story selection on the "Sunday" front follows news events during the day i.e. arrest of Rebekah Brooks was leading this afternoon, even though Mail on Sunday lead had been "Clare's law". Story selection on the "Daily" front includes stories from the Sunday edition. There is no link to the Sunday edition in the main site navigation.
Daily Star on Sunday
Users reaching the homepage are redirected to dailystar.co.uk/sunday/ with a Sunday masthead. Stories are served on the main dailystar.co.uk address, but the Sunday masthead persists across the site.
Sunday Express
Front page served at express.co.uk/sunday. This has the standard site masthead, but an additional banner "Sunday Express in association with S Magazine" above the main content. Stories are updated during the day. A Sunday Express link features in the site's main left-hand navigation.
Sunday Telegraph
Appears to make no concessions to Sunday, including not having sundaytelegraph.co.uk or thesundaytelegraph.co.uk URLs registered as redirects.
Sunday Times
thesundaytimes.co.uk has a standalone site. This is updated during the day - leading to the arrest of Rebekah Brooks being simultaneously covered by Simon Alford for the Sunday title and by Sadie Gray and Anushka Asthana for the daily Times.
The Observer
The Observer front page online is at observer.guardian.co.uk. It does not feature updating news during the day - although today does feature David Mitchell pondering "How can the Observer attract former News of the World readers?". Stories are published on www.guardian.co.uk, not observer.guardian.co.uk. There is a link to the Observer from the main guardian.co.uk front page navigation.
Sunday Sport
I couldn't be bothered ending up with these URLs and search terms in my browser history.