When did the word "weblog" first appear in The Guardian?
Over the last couple of days I've been posting my notes from a couple of sessions at The Guardian where Matt Wells and Andrew Sparrow were talking about how we do blogging on the site. There was some debate about unearthing the first live blogs, where the Edinburgh G8 summit, the 7/7 London bombings, and the fate of Shambo were touted as candidates. Matt also pointed to Leo Hickman's claim to have been the first blogger on Guardian Unlimited. Neil McIntosh has subsequently directed me to minute-by-minute coverage of Inter vs Manchester United in March 1999. It all prompted me to delve into our digital archive to find the first reference to "weblogs" in print in either The Guardian or The Observer.
It looks like the first mention of the format was in a column called "The search engine" in October 1998. Billed as "The Guardian New Media Department's web picks", a write-up of John Barger's "Robot wisdom" site mentions that:
"The real gem is the weblog, a daily account of John's travels around the web. Watch a highly observant and thoughtful surfer at work"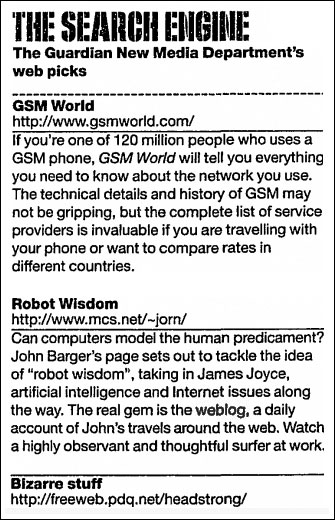 It was a few months before the word "weblog" appeared again, in a piece puntastically headlined "Easy as falling off a weblog" in June 1999.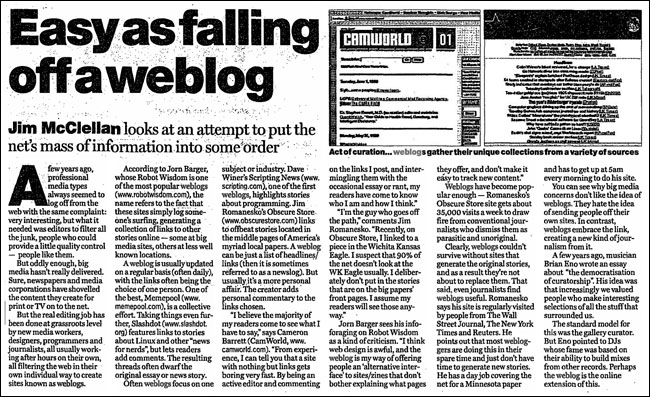 Jim McClellan's article is great to look at nearly eleven years on, not least because it seems to encapsulate all of the arguments about bloggers vs mainstream news media that some people seem to still be having today. Namechecking Robot Wisdom, Dave Winer's Scripting News, Slashdot, Memepool, Romanesko's Obscure Store and Cameron Barrett's CamWorld, the article mentions resentment from journalists that these types of sites are parasites on their content and don't generate their own stories. Interestingly, Jim Romanesko seemed at pains to point out to McClellan that the blog was something very distinct from his full-time job of covering the web for a Minnesota paper, and which he got up at 5am to do in his own spare time.
At this point in time, as old as my blog is, my first currybetdotnet post was still three years away, but a third mention of "weblogs" crept into the paper in December 1999, in a small piece authored by Jack Schofield. Amongst a list of useful resources under the heading "Web working" he suggested Groksoup as a DIY weblog platform. Other things making the list in 1999 included MSN Messenger, proto-RSS-reader/scraper software Spyonit.com, and an obscure new search engine with a silly name that could be found at google.com.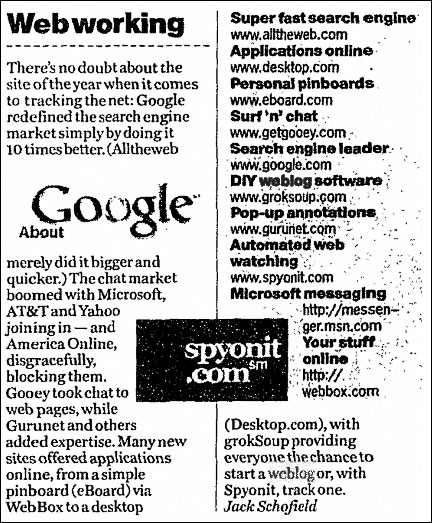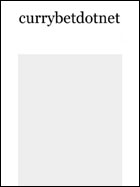 "currybetdotnet: Best of the blog 2011" brings together over 50 of the best posts on this blog from 2011, covering topics such as live blogging, community and social media for news websites, and the future of digital media. It features write-ups of talks by Guardian journalists including Paul Lewis, Matthew Wells, Andrew Sparrow and Chris Elliot, and behind the scenes looks at Guardian products like the Facebook and iPad apps. It also has transcripts of Martin Belam's talks at EuroIA, the UPA conference, Polish IA Summit, Content Strategy Forum 2011, FutureEverything and Hacks/Hackers London.
"currybetdotnet: Best of the blog 2011" for Kindle is £1.92.