Inline article links to tag pages on guardian.co.uk
In yesterday's post, "5 ways that The Guardian puts external links onto web pages", I mentioned how Patrick Smith had sparked off a lot debate with a blog post entitled "Link to the past: why do some news sites STILL not link out in 2010?". In it, he suggested The Guardian website as being one of the best examples of linking out - an assertion he partially retracted, saying:
"On the subject of Guardian.co.uk and linking - it does do a good job directing readers to interesting and relevant things on its blogs and in the technology/media section, but I am swayed by some commenters below criticising my assertion that the site is 'good at linking', as the majority of links do appear to be internal-facing subject page links."
In our web CMS, we have a check-box that offers the option to 'Automate linking of keywords'. We have literally thousands of topic keywords, and the CMS will automatically insert a hyperlink to a tag page if the text in the body of an article matches the keyword. The automatic link occurs once on the first mention of the keyword, and we maintain a 'blacklist' of terms that don't get linked. The tool skips over any words that are already forming part of a hyperlink.
Whilst it certainly serves to increase the number of internal links pointing to those keyword resource pages, I think the benefits for the end user here are obvious in a lot of cases. If a journalist uses the phrase 'credit crunch' in an article, and it is automatically turned into a hyperlink to our credit crunch tag page, and that page opens with explainers on 'Credit crisis - how it began' and 'How the bubble burst', then that is a valuable and useful service to readers.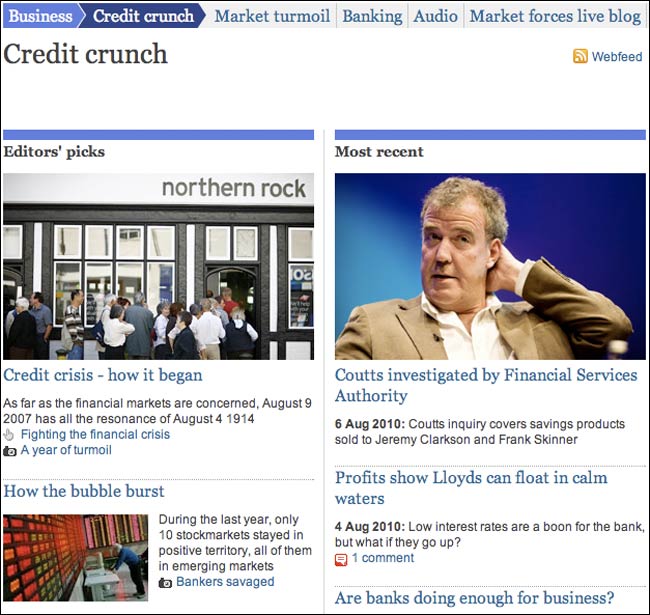 It is, however, a much less convincing user experience when the keyword in question is a company or organisation name.
If you click on the hyperlinked word 'Microsoft' in the middle of a Guardian news article, as a user are you expecting to see more news stories about the company? To get a stock-quote for MSFT? Or to stop reading news entirely and instead go to www.microsoft.com? Or directly to office.microsoft.com if the piece in question was about that particular bit of their software portfolio?
The automatic linking is an admittedly blunt tool for putting topic based hyperlinks into articles that would otherwise be without any inline links at all - and as a result some are more useful than others for the end user. What could be better, I think, is if there was some finer grain control over what got automatically hyperlinked. Personally I'd prefer to see the tags for people, companies and organisations exempt from it, as I think those are the types of links where there is the most disconnect between expecting an external link and receiving an internal one.
The question is, of course, how much effort do you put into devising an algorithm to perfect the automatic linking of keywords, versus optimising workflow so that you don't need to automate links on an ongoing basis.
Next...
As I said, Patrick's blog post rekindled a debate about when and how news organisations should include external links, a theme I hope to return to in a couple of further blog posts.