With professionals of this quality, who needs 'citizen journalist' enemies?
I wasn't at journalism.co.uk's news:rewired event last week, but the most passionate debate seemed to be the argument around the use of the phrase "citizen journalist". A few of the things I bookmarked for today's linklog seemed to come together in a way that illuminated that argument for me.
Blunt write a brilliant and funny "Bulls**t translator", and Patrick Smith took apart the economics of it. Both entertaining reads, both written in people's spare time for nothing.
Anton Vowl took on Catherine Bennet's column about free-speech martyrs and Internet mobs, saying:
"You can either ridicule the entirety of Twitter, and imagine that you're the big clever people who've got the keys to the world, by dint of being slightly better at writing than other people, but the truth is that isn't the case. It's not mob rule. The mob are your readers. The mob are real people, who think for themselves."
Again, it was done for nothing, and was excellent writing. And I think he hits the nail on the head.
It used to be enough to be a general authority on a range of topics, by virtue of being one of the few people with access to the publishing machine. That isn't the case any more. On any subject you are likely to write about, there will be members of your audience who know more than you, and who now have the means, either on their own, or through the tools newspapers give them in the form of comments, to respond and correct articles.
I'm not talking about the legion of 'I can't believe you get paid to write yet another Liverpool in crisis blog, when are you going to write about Leyton Orient?' comments on sports articles, I'm talking about the ability of healthcare professionals to respond to articles promoting quackery, about transport engineers being able to comment on articles about transport planning, about lawyers being able to correct misconceptions about the impact of the EU on legislation.
Adam Tinworth maintained that his slides from news:rewired weren't as useful without his commentary over the top of the them, but two of them speak volumes themselves - the future is in niches, and 'love your audience'. Journalists aren't writing for an amorphous mass of 'the readers' anymore, who are occasionally allowed to get something published in the 'letters to the editor' page. They are writing for a community of individuals who are all, to an extent, experts in something, and who all, to an extent, can self-publish on the very same digital platform as journalists.
And then I look at that Sunday Express article about the BBC use of Twitter.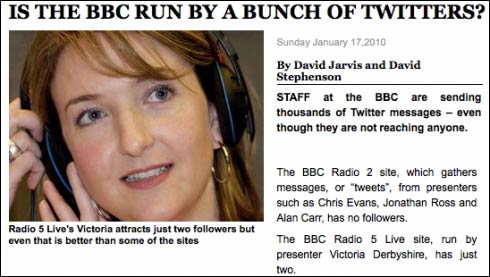 The industry argues that what separates the 'journalist' from the blogger is ethics and standards and training and education. It took two - two! - professional journalists to write a piece of reporting so wrong-headed and factually incorrect that it had to be deleted. Malcolm Coles - again, for free, in his spare time - needed mere seconds to rip it to shreds. With professional friends like these, who needs the 'citizen journalist' enemy charging at the gate?
I don't know what the Venn diagram intersection of 'Sunday Express readers' and 'Twitter users' is, but presumably there are some. When they read an article so obviously nonsensical like that, they can only end up thinking "if this article, on a topic which I know something about, is so wrong, I can only assume that some, if not all, of the articles on topics which I don't know much about, are equally wrong".
If churning out bogus articles like the Express 'exposé' on the BBC use of Twitter is the price journalists pay to cling on to the designation 'professional', who wouldn't rather be an amateur?