Comments are free...to inform and to entertain, as well as infuriate
"As a blogger I'm not afraid of the comment box, unlike many journalists of whom we shall not speak..." - Zoe Margolis
The 'outing' of Belle de Jour, like that of Night Jack and Girl With a One Track Mind before it, has raised some interesting debates around the issues of anonymity and privacy when blogging. Zoe Margolis, the one-track minded sex blogger, wrote a piece for The Guardian on the issue, and immediately set about playing a very active and aggressive role in the comments thread below it.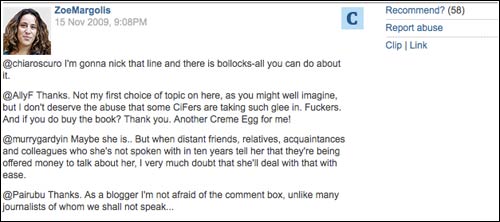 I linked to it on Twitter, suggesting she was very much giving as good as she was getting. Not everybody felt the same. Anne Wollenberg said in reponse.
"Totally disagree. Think she needs to stop rising to it. Readers on the Guardian site will always hack people to shreds and responding to every criticism = red rag."
What interested me here was that I think it illustrates something about the respective culture of 'blogger' versus 'journalist who has comments enabled at the bottom of their articles'. There is one view that says adding comments to the foot of every newspaper article online is just an opportunity for 'green ink' letter writers to scribble all over your work in public. "I can't believe you get paid to write this rubbish" never seems to be too far away in any newspaper comment thread.
You seldom see a journalist come out fighting their corner in a comment thread like Zoe does here. And rightly so. For one thing they don't have the time, and for another, it would be a distraction from having an impartial authorial voice when needed. However, on a contributor's guest comment piece it struck me as a really entertaining read - and surely the point of UGC is not just to let people 'have their say', but also to entertain and make the overall web offering more compelling for everybody? [see comments for clarification]
There is another interaction role in the comments on The Guardian though, and that is to be useful and helpful. We recently changed the back-end implementation of the system, and Meg Pickard, our head of social media development, used a blog post and comment thread to collect bugs.
One of our developers, Roberto Tyley, also blogged about the changes on the site.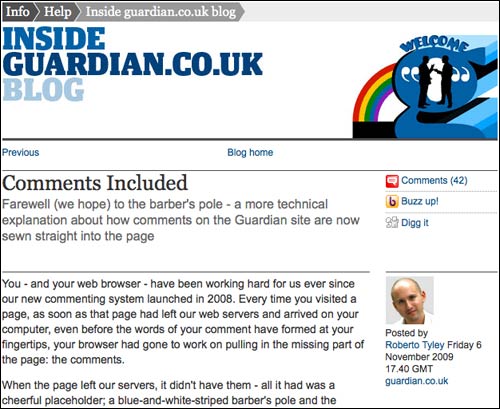 He outlined very clearly the reasons that the system had been implemented in this way, and was open and candid about some of the technical issues the team had encountered. Like Zoe, Roberto also got stuck into the comments thread. Not, in this case, to defend a position, but to help people with the questions they had about the system, and to discuss things like 'cache-invalidation message failure' which had been causing some bugs in the first couple of days. I think it is one of the best examples of a tech team engaging with the audience over changes to a site that I've seen.
Implementing comments on newspaper sites has always been viewed as risky. It opens editorial content to instant and public criticism, may alienate advertisers, and moderating user-generated content is time-consuming and expensive for an industry that is concerned about future financial viability. However, I think examples like the two above show how the potential value of the entertainment and audience dialogue they generate make it well worth taking those risks.