Revenue share deal spikes newspaper guns about England's pay-per-view Internet World Cup qualifier

The confirmation that England's World Cup match against Ukraine will only be available pay-per-view on the Internet reminds me of 2000, when an away game against Finland was only available on short-lived and obscure pay TV service u>direct.
Perform, the rights holders this time around, have made a shrewd move in allowing newspaper websites to sell the game on a revenue share basis. Whilst I'm not suggesting filthy lucre has unduly influenced editorial decisions, it is certainly a lot harder to write a blustering piece about how the Internet-only move excludes the regular fan on the street when you are also providing affiliate links to sell the game on a branded version of the ukrainevengland.com website.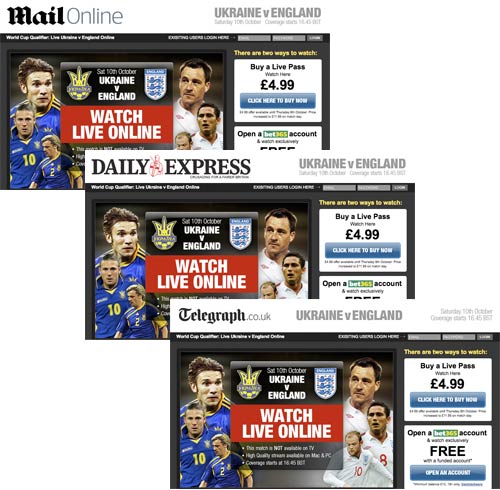 When England were in Finland nine years ago, the papers were nowhere near as ambivalent about the situation, and Giles Smith wrote a damning piece in The Telegraph about u>direct:
"What else can pay-per-view do but shout and scream? When your viewers have spent £9.99 to join you, how can you tell them they have dumped their money on a total clunker? Football supporters are, in fact, well aware of the risks: quality entertainment is never guaranteed in a football match, particularly one involving England. But pay-per-view television, which has its own business imperatives, cannot own up to this without seeming foolish and ungrateful and the commentary team thus become cheerleaders, not just for the team, but the entire commercial project. The assumption, witnessed so graphically on u>direct on Wednesday, is that a paying audience deserves something a little shinier than the unvarnished truth. Welcome to pay-per-view football, everybody. Check your perspective on the way in."
The FA have also mellowed their stance in the intervening years. Although he didn't take charge of the game - Howard Wilkinson was the man responsible for the dire 0-0 draw against Finland - beforehand Kevin Keegan had said:
"I am [against it] for the national side, definitely - I think it should be available for everybody; and I feel that about all the major events, to be honest. I don't think you should have to buy one of these or have one of those to get it because it is our national sport."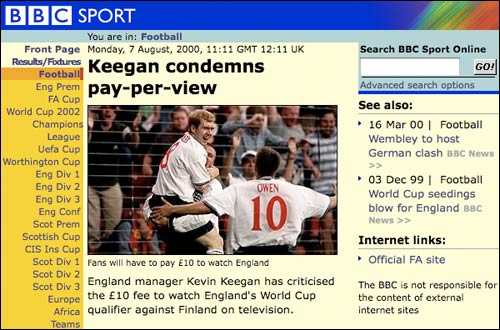 Incidentally, I've got no insider knowledge on why The Guardian hasn't also hooked up as part of this deal. It certainly seemed to leave our sports coverage with a freer hand to put the importance of the game into perspective. I'm sure there would be a much bigger outcry about the situation if England hadn't already qualified for South Africa, and on yesterday's Guardian sports blog Tom Lutz wrote:
"There's a whole range of options if you want to see England v Ukraine on Saturday, the deadest rubber since Onan carked it. The game won't be on TV, meaning you won't be able to watch it in a pub. Instead, you can fork out a fiver and go down your local Odeon. It'll just be like watching it in Yates Wine Lodge but without the time-honoured kicking in the toilets. The game will also be broadcast over the internet - again if you stump up - although you could just go to certain illegal sites and watch it for free. The choice is yours."
So, as a fan, what to do?
They say they are capping capacity at 1 million streams, and the early bird price expires late on Wednesday night. However, I still can't quite believe that given a choice between there being low take-up by Friday, and a last minute deal with a terrestrial station, Perform won't capitulate and at least make an extended TV highlights package available.
Personally though, I think I'll just be out scouting my local pubs on Saturday morning. I can't believe that not one of them will have the wit to hook up a laptop to their big screen projector or get the game beamed in via Ukrainian satellite.