"Diana, the ghost, and the cathedral" - Haunted St. Albans
It seems a long time ago now, but back in September and October last year when we were planning our move back to the UK, we considered St. Albans as a place we might choose to live, and so took a day trip there to have a scout around. Not any ordinary day trip, of course, because with a bit of digging around in local history and folklore, we managed to turn it into a ghost walk around the town. It was when we reached St. Albans Cathedral that we ourselves had a spooky and spiritual experience.
Well, at least we overheard one anyway.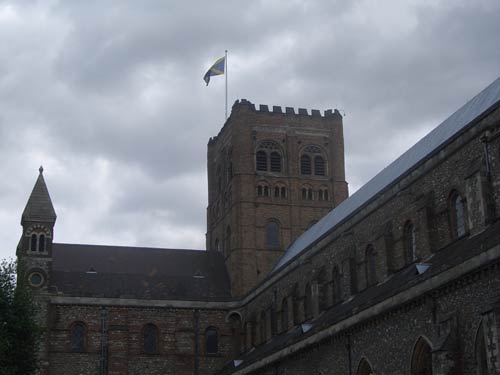 We were heading out of the building, and were passing through the gift shop. It was there that we overheard a man asking the shop assistant if she had any more postcards of Diana, Princess of Wales. She didn't, but that didn't deter the man from explaining how close he felt to the late Princess. "She was such a lovely woman" he said, "and she used to love coming here".
"In fact", he continued, "I can feel her spirit in the Cathedral."
Now, call me old-fashioned, but my understanding would be that if Diana's spirit was still hovering around this mortal coil, the chances are that it would be in Paris where she died. Or in one of the houses where she lived. Or watching, concerned, over her son whenever he was in active duty in Afghanistan. Or even just childishly annoying Camilla by knocking things off the shelves in Highgrove or Clarence House. But not just hanging around a random English Cathedral that she happened to visit a couple of times.
I did a bit of research to find out what 'special bond' Diana may have had with St. Albans.[1]
It seems that Princess Diana visited the town on at least two occasions, as the St Albans Museum online collection has got three photos of her.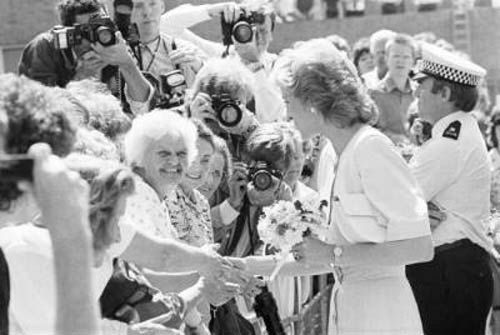 Two are from a trip to a shopping centre in 1988, and she also visited again in 1989. It was then that she visited the Cathedral to dedicate the refurbished 'Rose' stained glass window in the north transept.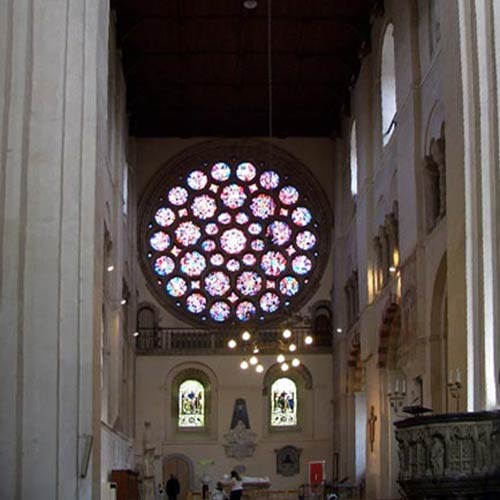 This picture of the window is from the Victorian Web site, taken by Jacqueline Banerjee, and there is another great photo of the 'Rose' window on Flickr by daveyboyhill
The stained glass window was designed by Alan Younger, to replace a rather dull window inserted into the building during the unpopular Victorian refurbishment by Lord Grimthorpe.
Saint Albans is an impressive Cathedral, and I must praise the meeters'n'greeters at the entrance who were happy to stand around and chat about the history of both the church and the Roman city near which it was built. We were a bit taken aback by the fact that the nave screen statues seemed to be doing an impression of a religious 'blue man group' though.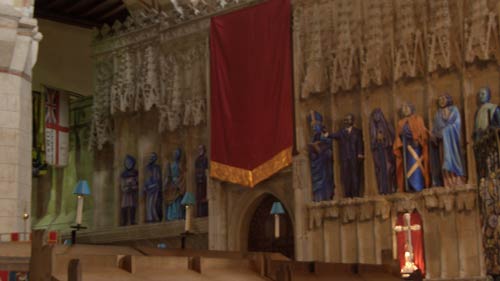 The original statues, which presumably weren't blue, were destroyed in the 15th century during Henry VIIIth's Dissolution of the monasteries. The current statues were made by local children's community groups, and feature Alban and Amphibalus, and more modern Christian martyrs like Dr Martin Luther King.
The cathedral is also home to the shrine of St Alban. Alban was a Roman who gave shelter to a Christian priest in the area in the 3rd century. Having shielded the Priest and converted to Christianity, he was executed. According to one of the church's information pamphlets:
"He was brought out of the town, across the river and up a hill to the site of execution where his head was cut of. Legend tells us that on the hill-top a spring of water miraculously appeared to give the martyr a drink; also that moved by his witness [Alban testified of his Christian faith at his trial] the original executioner refused to carry out the deed, and that after his replacement had killed Alban, the executioners eyes dropped out."
Having witnessed on our travels the sight of Czech ossuaries, bishop's skulls, a mummified Saint's hand and a frankly psychopathic display of corpses in a Church in Rome, St Albans shrine seems rather restrained and British by comparison.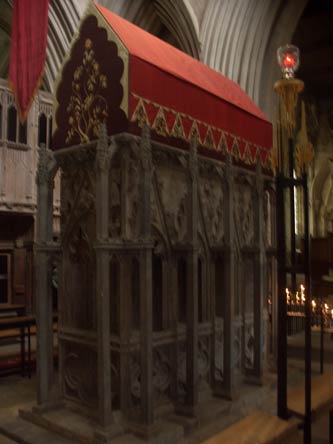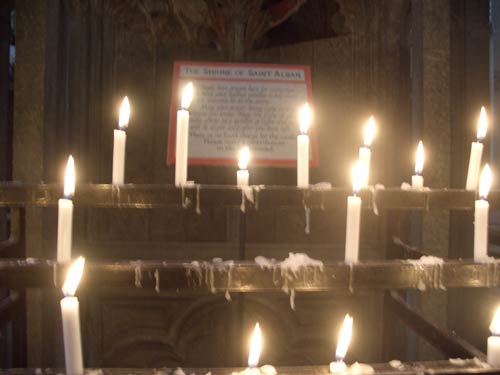 All of which is quite interesting, but leaves me none the wiser as to why the spirit of Princess Diana should be hanging around the place. Perhaps the Most Haunted Live team can pay a visit and find out...?


[1] So, basically I typed "princess diana st albans" into Google, which is about as good as primary research gets for most people. [Return to article]