3 key moments when the NUJ 'effing blogs' dust-up might have been avoided
Last week I ran a training day at The Frontline Club in conjunction with journalism.co.uk about blogging, and towards the end of it I included a session loosely known as "101 things that will go wrong with your blog".
As part of it, I used the recent NUJ vs Adam Tinworth 'effing' blogstorm as an example of how situations can quickly get inflamed. As an outsider, it strikes me that there are three very clear moments where the personal elements of the debate could have been cooled or avoided altogether.
The initial email
The initial email that Adam saw referenced in his logfiles was, by his own admission, sent by Chris Wheal because:
"exasperated at the ill-researched, inaccurate and unfounded allegations made against the NUJ's training department - one of the most progressive parts of the NUJ - I emailed the whole of the committee at 22.48pm, just before I went to bed (I start work at 6am), urging them all to look at this and another blog."
That isn't a good frame of mind to be sharing information and links. If Chris had just walked away from his computer that evening instead, he may have reconsidered his choice of language in the morning, and the whole episode might have been avoided.
Adam chooses to blog
Adam Tinworth was clearly upset by what he saw in his logfile analytics, to the extent that he did some digging around. However, he could have just stored the information, knowing that he would be able to drop into conversation that the NUJ sends messages around about 'effing blogs' and could back it up with evidence.
He also, on reflection, might have thought that it would have been possible to blog about it, whilst blacking out the name of the email account holder in the image he shared, and chosing not to publish their account identity and making it a direct attack.

The quotable comment
I'm sure that Chris Weal had the best of intentions in intervening in Adam's blog to take responsibility for the email, but an injudicious turn of phrase in a subsequent comment aggravated the pro-blogging lobby further:
"The NUJ fails to maintain standards in blogs because bloggers themselves rejoice in having lower standards."
Whether he meant 'rejoice' in the sense of 'enjoy', or in the sense of 'willfully aim for lower standards' became neither here nor there. That phrase became the defining quote from his contributions to the debate, and one that has been echoing around the journalism sector of the blogosphere since.
Rule #1: Never blog or comment in anger!
One of the things that I was trying to teach on Thursday was to never blog or comment in anger.
If something you are about to post on a blog causes you to have even the slightest doubt in the back of your mind that it might be antagonistic and be 'not-quite-the-right-thing' to post, then my advice is to stop immediately.
That hint of a doubt is all you need to tell you to back away from a situation, and to give yourself some time to evaluate what you have written calmly.
You can sleep on it, and see if you feel like posting the same thing in the morning. Or print out what you are planning to publish, and come back and read it on paper after half-hour has passed. Whatever works for you - but give yourself time to consider how what you are writing might be perceived by others.
The NUJ 'effing blogs' saga has been unedifying to watch, and is indelible in Google for all of the main protagonists. If only they had taken a "cooling off" break at any of the 3 points above, we might have avoided all of the personal attacks and media coverage that has followed.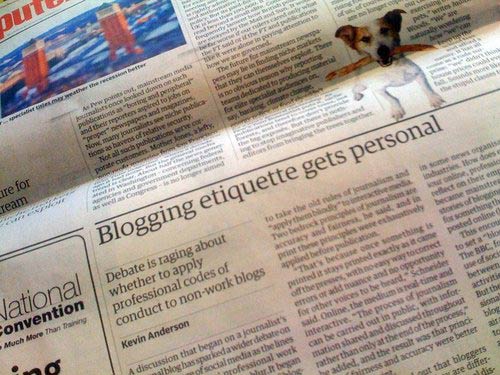 [Image of Kevin Anderson's Guardian article from Adam Tinworth's "One man and his blog"]