Wireframing the front page: Part 5 - The Sun
Over the last couple of days I've been comparing the different proportions of types of content on newspaper front pages and their online equivalent. So far I've looked at a 'quality paper' - The Times - and a 'mid-market' title - The Daily Mail. This has been part of a series called 'Wireframing the front page'.
Today I wanted to compare the front page and online "viewport" of a 'red top' tabloid - The Sun.
The Sun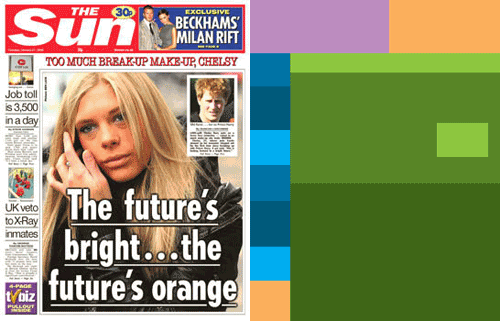 Again we see that there is a big difference in the space occupied by the lead story in print and online. 70% of The Sun's paper front page was occupied with Chelsy's make-up faux pas, as opposed to 23% in the rotating carousel of stories online.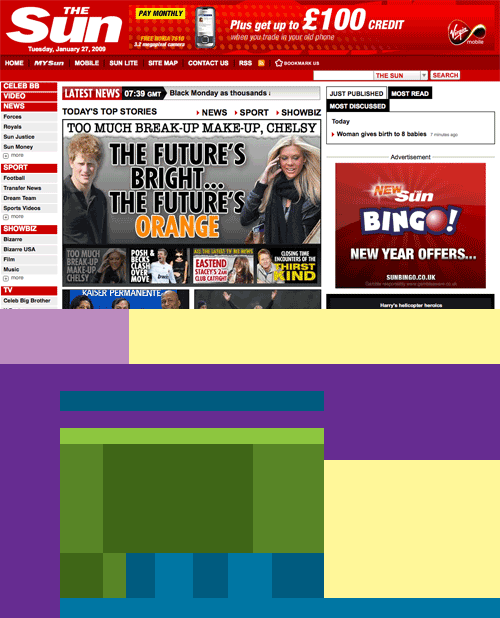 One thing I should add to all this is that, obviously, on any given day these proportions are likely to change, particularly in The Sun's printed edition where design can be more flexible, depending on how strong the image that accompanies a story is. If you were carrying out a study like this more thoroughly you'd want to get average figures across the front pages printed on several days.
Another discussion point would be who the online adverts were for. There is an obvious example here with The Sun homepage I captured on the 27th January. I've assigned the advert for "Sun Bingo" [shown above] as third party advertisement. Since it uses The Sun's brand you might consider that this was actually an example of in-house promotion. However, the slot has a text label 'Advertisement' above it, and is mostly used for other companies.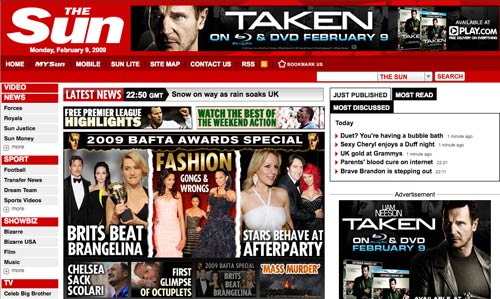 Indeed, with expanding adverts, it is sometimes difficult to put a percentage figure on exactly how much screen real estate they occupy.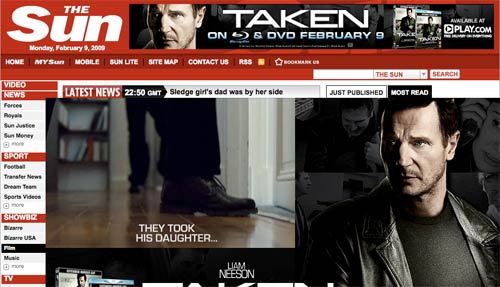 | The Sun | Print | Online |
| --- | --- | --- |
| Masthead | 9% | 5% |
| Top story | 70% | 23% |
| Other stories | 11% | 15% |
| Navigation | 0% | 28% |
| Advertising | 0% | 28% |
| Promotions | 9% | 0% |
Over half of the online page was taken up with advertisements and navigation, neither of which appeared at all in the print version. It is interesting to note that despite how lucrative third party advertising could be on the print front page, UK newspapers avoid it, whilst selling valuable screen space on their online front pages.
Next...
I only did this exercise for three papers, The Times, Daily Mail, and The Sun. If you are interested to see the results for more, well, you've got the idea yourself by now...