The BBC's "Points Of View" online culture clash - Part 3

by
Martin Belam
, 20 February 2009
Earlier this week I published a couple of posts about the BBC's Points Of View message board, which have sparked some debate on the boards themselves. I thought it was worth returning to the topic to clarify a couple of points.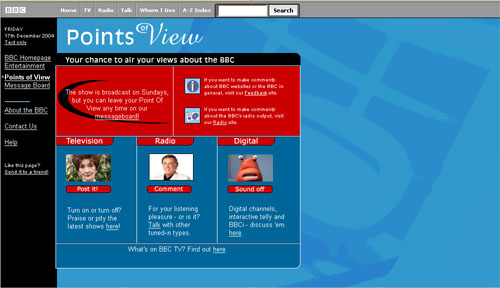 "50 or so" users
One thing that seems to have vexed the POV board is my suggestion that there were only '50 or so' regular users on the board. I added a comment about that on my previous post, but it is worth re-iterating here:
"Regarding the 50 users figure, the fact that I wrote "50 or so" was intended to convey that it was an approximate figure, not to imply that I have some way of knowing the BBC's web statistics. The number is based on my perception of how many really active regular members the POV community has from trawling around the board. Just to clarify, it isn't an official figure, and I don't have a margin for error on it."
Nick Reynolds has said he will shortly publish some usage figures, which I'm sure will be much higher than 50, as they will, no doubt, be counting anyone who has posted in the last few weeks as an 'active members'. As I went on to say:
"I'm talking about the 'hardcore kernel' of users here - the kind of people who go to POV most days and would probably go to a 'meet-up'."
I'm not suggesting at all that the board only has 50 users, but what I am saying is that the core of the POV community appears, from the outside, to be around that mark, and I'm reasonably happy that the number is in the right order of magnitude. Certainly it must be more than 5, but well below 500.
I'm suggesting that running the boards as they are is "super-serving" a very small dedicated audience. Whilst I think that is fine for obscure music on Radio 3, that still reaches hundreds of thousands of people and is a well-defined cultural and public service. I'm not sure a niche messageboard is.
The Dalek feedback factor
In my post I used the example of the Dalek feedback thread to indicate that the boards were not necessarily the right place to publish data about the BBC website and get a response from the audience, and that blogs would have been a better approach.
What I think is the difference between now and 4 years ago is that with that Dalek homepage, yes, certainly the BBC got 1,500 emails, which was a fantastic level of feedback, but only a handful of people within the Corporation got to read them. I published some figures on POV, blogged about it on here, and presented it as a case study at OpenTech, and that was that. Members of the public can't look at those original comments about the Dalek page now, and I daresay that within the BBC they are just gathering virtual dust on an email archive server somewhere.
By contrast, when the personalised homepage beta was launched, or the BBC News site redesigned, Richard Titus and Steve Hermann were able to publish on the BBC's blogs, and the hundreds of comments they attracted are available for everybody to read.
It didn't need someone from the BBC to come along and filter the email and say 'some people thought this' and 'some people thought that' on a messageboard like I did back in 2005. Everybody can read the feedback in one place in one thread, which doesn't get sidetracked into going off topic.
The tribes of the web
My reason for posting about Points Of View was originally because after Jemima's Guardian piece, I was intrigued by the tribalism of messageboarders vs blogs that seems to have developed in this debate.
Since I started going online I've used Usenet, IRC, email, instant messaging, Twitter, messageboards, social networks and blogs.
They are all just different ways of facilitating communication between people online. None of them are inherently better than others, but some are better suited to particular tasks.
I don't think that observing that senior members of the BBC are more likely to engage via a blog than via the POV messageboard is the same as saying that all messageboards are obselete, and that the people who enjoy using them shouldn't.
But, you only have to use the pull-down menus on the Editors Blog and the BBC Internet Blog to see the wide range of authors from Mark Thompson down who have written on them, and I bet virtually none of them would willingly venture into a messageboard environment.
And finally....(-ish)
The BBC Internet Blog picked a couple of the juicier and more sensational quotes from my blog posts, and the "50 or so" number has somewhat obscured the overall point I was trying to make about the POV boards.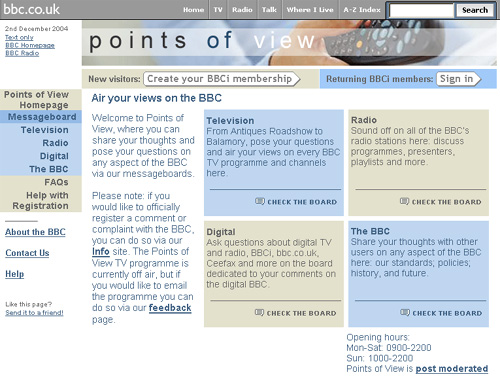 If it is just meant to be a general place to hang out and chit-chat about television, then I don't see that the BBC is doing anything here that the wider Internet market isn't. The BBC doesn't do fantasy football anymore, for example, because the BBC wasn't adding anything distinctive. I'm not sure what is distinctive about POV, except the expectation that someone in the BBC is reading through it. Since it doesn't appear to be a good format for engaging senior management or programme makers at the BBC, it simply isn't fulfilling that purpose.