What is the collective noun for a group of atheist buses in London?
I've spent much of today trundling around London by bus, with varying degrees of success. Along the way I passed through Euston station which was chock full of number 18 buses all sporting the British Humanist Association's "There's probably no god. Now stop worrying and enjoy your life" advert.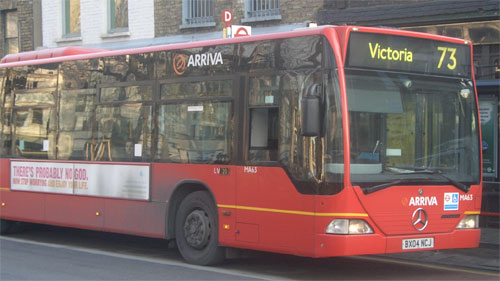 It caused me to wonder aloud on Twitter what the collective noun for a group of atheist buses might be.
I got a few good suggestions back.
I'm not sure that anyone will top Newscounter's suggestion though:
"a congregation of atheist buses"

Enjoy it while it lasts however. The notoriously publicity shy Stephen Green has already started making a song and dance to the ASA about the adverts, saying that they are 'misleading'.
Incidentally, I notice that according to Google, the number #1 result if you search for the words of the advert is an article from the Daily Mail. Perhaps we can Googlebomb the official Atheist Bus website up to first place?