'The Fry Effect' - mentioning Twitter on the Jonathan Ross show
I assumed that on Friday night nothing short of appearing in sackcloth and ashes and spending the whole 59 minute slot groveling and apologising profusely could have placated the tabloids.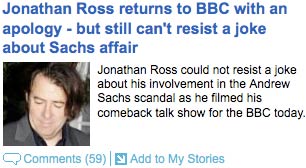 I was rather more interested in the Jonathan Ross impact on Twitter.
"All over. Won't reveal too much as press seem anxious to be all over this. JR & I discussed Twitter. Hope it makes the cut. Cruise charming" - @stephenfry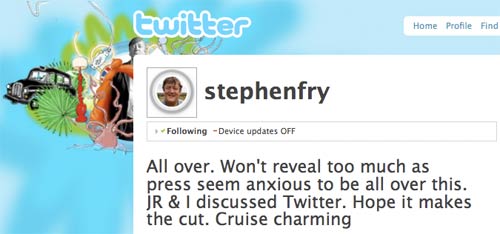 Followers of @stephenfry and @wossy knew in advance that they might discuss the micro-blogging service that seems just on the cusp of exploding into the mainstream. Just after filming had finished on Thursday afternoon, Fry had 54,770 followers in his one man experiment to break Twitter, and @wossy had 13,933.
By Sunday morning, after the show had been broadcast twice on BBC One, @stephenfry had 63,571 followers - an increase of something like 16% in four days.
Ross, on the other hand, didn't appear to experience any kind of upswing in followers at all.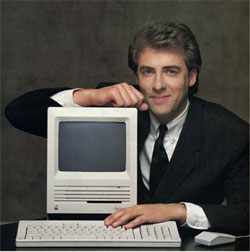 Still, my local Sainsburys looks like it is hoping his return to TV might stimulate sales of his book...