Links of the year 2008 - Part 2
Yesterday I started publishing a list of my "links of the year". Here are some of the most interesting links from April and May 2008.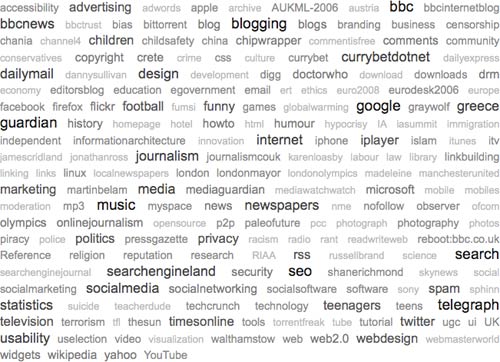 Of more interest perhaps: "In the interview, Elton also talked about the decline of traditional sitcoms that could be enjoyed by mass audiences. 'I don't think it's the fault of artists, or even commissioners; I think it's the fault of technology…'"

"I was at another one of those dinner parties last night where the other people were frankly bothered and bewildered by the fact that I blog and use RSS to track hundreds of different information sources". Lloyd with the negative numbers.

"I was fortunate enough to present my research on how the BBC has integrated blogging in its journalism at the Online Journalism Symposium. The paper, The BBC Goes Blogging: Is 'Auntie' Finally Listening?, is available for download as a PDF."

"I was working on trademarking some SEOmoz marks the other day, when I noticed that someone is trying to register 'SEO' as a service mark".

"Recently my attention has been drawn to the Dutch news website www.en.nl. Wilbert Baan, interaction designer for the Dutch newspaper de Volkskrant, told me he wants to see 'what we can do with news, social networks, wikis and more'".

"A sandbox for collecting search examples, patterns, and anti-patterns".

If it ain't broke, don't fix it, I say. What was wrong with that black'n'white mast ident from 1954?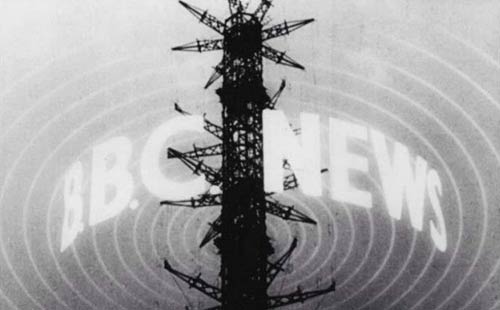 "Over the last few days I've noticed a couple of what I believe to be spam submissions to Sphinn with links to topgear.com, the official website of the BBC TV show fronted by Jeremy Clarkson". Also cites BBC Top Gear URL activity on Digg.

Includes: "In real life, it's usually considered impolite to start banging on to relative strangers about how your day was before they've even asked. Why is this so different on the internet?"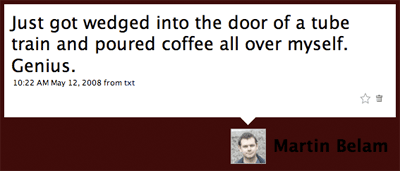 "The Grand Island Independent found a clever way to use CoverItLive. They're chatting with folks about the redesign of their site. The conversations are public and allowed them to immediately fix quirks and bugs that readers found".

"Sky One is to remake the science fiction series Blake's 7, following the recent reimaginings of Doctor Who, Battlestar Galactica and Bionic Woman". Doesn't this sort of thing

get announced every couple of years

and then nothing happens?

"Half the UK population has grown up playing computer games. They aren't addicted, they aren't psychopathic killers, and they resent those boneheads – that's you – who imply that they are addicted and are psychopathic killers".

"It reminds me of the closing scene of Scarface, where Pacino, surrounded on all sides, decides to go out in a blaze of gunfire. College students, grandmas, storage services, software companies".

"Web native != young. Let's get that straight. But it usually does, and if you don't know what that first sentence means, you're probably not a Web native".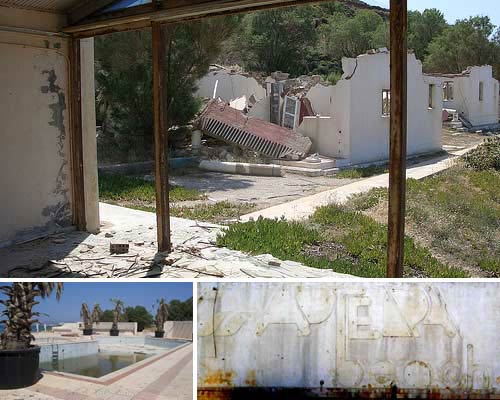 "It was taken before England played Scotland in Glasgow on March 4 1876". Local newspaper archives triumph again.

"One Leeds fan, musing over who he wanted to win from Manchester United's meeting with Chelsea in Russia, could not decide which side he disliked least and eventually plumped for 'the Moscow Police'". I know exactly how he feels...

"Consumer Reports WebWatch released the results of an ethnographic study on how children interact with online environments. The study used ethnographic methods and focused on young children, ages 2½ to 8".

"Presenting the abstract pointillist powerpoint toolkit. 20 slides that can be used for any presentation. Cut, paste, copy, crop the slides to create an abstract of your ideas that you can then talk to and through".

"Then I did a bit of work as a citizen electrician. Yeahhhh, really sticking it to The Man there. Rather than getting an electrician to come in and fix our light switch, I bought one, replaced the old one..."

"The Science Museum 'Object Wiki' is a website with information about some of the objects within the Science Museum's collections. To help improve the information, we've opened up the pages so that anyone can edit them."

"Silverback is an OSX application to help people run their own low-cost Guerrilla usability tests. It captures screen activity, records audio and video from your built in iSight, and then composites it into a handy Quicktime movie for later use". Want.

"I've been thinking quite a bit about how people use social media, and how the way they use it defines their understanding of it recently". Kristine pulls together some quotes suggesting 'sit-back media' are the blip, not the norm for society.

[In the 1925 article] "Expect Movies to be Produced in Every Home," Cecil B. DeMille predicts not only home movies of the future, but the rise of the amateur filmmaker as a force in the film industry". Damn citizen film-makers...

You know, sometimes I think that we spend so much time worrying about how to level our own UK broadcast and print media playing field, that we haven't noticed that Google have already run off with our ball...

I missed this rather brave attempt by Mat to actually try and explain to the masses the insane notion and policy assumptions behind Barley. I used to chair a tech working group which debated this kind of thing. Oh happy days...
Next...
In the next part of this link mini-series, I'll be listing some of my favourite bookmarks from June and July 2008.