Ban this sick Nazi paedo filth!

by
Martin Belam
, 28 January 2009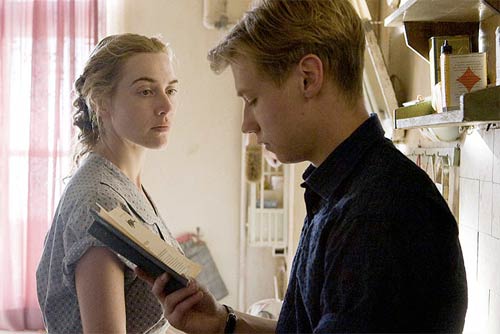 "MOVIE-MOGULS HORRIFIED cinema goers today with the launch of a film that shows a SICK NAZI PAEDOPHILE having sex with a 15 year old.

In one scene the MONSTER lures their victim into the bath - and both are depicted TOTALLY NAKED.

The TWISTED HUN is revealed to have BURNED TO DEATH 300 Jews during the War, and to have SEXUALLY ABUSED victims in a Concentration Camp.

In GRAPHIC SCENES it is suggested that the couple indulge in INTIMATE SEX ACTS, whilst the EVIL PREDATOR insists their victim read to them from books before satisfying their CRUEL LUST.

A SHAMELESS spokesman for the film said that it was based on a "well respected" novel and examined the consequences of "living in a post-genocidal society".

KATY JOHNSON, 22, of Basingstoke said: 'It's disgusting that we can't do something to stop this filth. What would Winston Churchill and the brave boys who fought in The War think? I can't believe Britain has come to this. It is political correctness gone mad.'"
I'm sorry. You'll have to excuse me for a moment. I was just channeling how I imagine The Sun might have reported on Osacar-nominated 'The Reader' if the gender of the two lead characters had been reversed.
Instead they went with...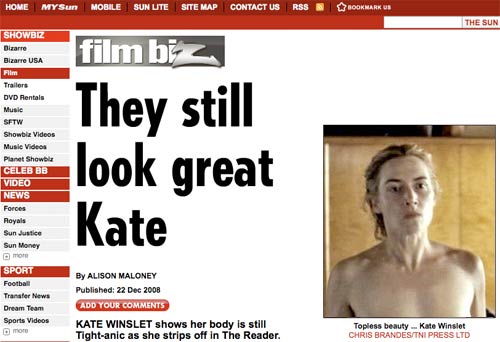 "THEY STILL LOOK GREAT KATE...KATE WINSLET shows her body is still Tight-anic as she strips off in The Reader"