Thoughts, notes and quotes from the Online Information 2008 Seminars: Part 3

by
Martin Belam
, 12 December 2008

Over the last couple of days I've been sharing some of my thoughts, notes and the best quotes from the seminar sessions I got to see at the recent Online Information expo in Olympia. I was there talking about emerging trends to help information professionals escape down-sizing in the coming months, and so far I've published two posts summing up sessions that focussed on social media and on content and information management issues.
Today I'm writing about the VIP Magazine Editor's briefing on the FreePint stall, and a couple of sessions that concerned themselves with one of my key interests - search.
VIP Magazine Editor's briefing by Pamela Clark
As well as hosting talks from the FUMSI team, on the Wednesday morning of the show the FreePint stand featured VIP Senior Editor Pamela Clark giving her review of the year in the information sphere.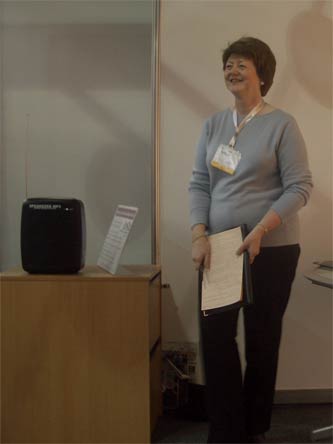 VIP Magazine is in its sixth year of publication, and Pamela Clark was running through some of the highs and lows. She said that one thing that had completely taken her by surprise was the growth of social networking tools. Although they had been an emerging trend, she had been astonished at how rapidly software vendors had incorporated social networking tools into their offerings, and how keenly they had been taken up by enterprises.
A couple of information resources that Pamela Clark thought were under-rated got a mention. BBC Monitoring in Caversham was one of them, and Intelius was another. The former keeps track of and translates foreign language media, and seems perennially under threat from budget cuts. The latter is a service for checking public records.
Pamela finished by observing of the Online Information exhibition that "this isn't as busy as it used to be".
She put that down to the prevailing conditions in the market. She had recently read an article about 'the end of lawyers', and felt that you could do a quick 'find & replace' to substitute "lawyer" with "information professional", and get an article that still made sense.
Out-sourcing of routine tasks to India, increased self-service resources on the web, semi-professionals providing the same services as professionals but cheaper - the comparisons to be made seemed endless. Nevertheless, Pamela felt optimistic about the future, saying that, as with the legal profession, real expertise was still a valuable commodity, and that information professionals needed to make sure they were communicating their expertise over the coming months.
Old search to new search - Ten [sic] lessons for replacing legacy search by Raymond Bentinck
"NO Failed Projects...EVER!"
I have to say that although Exalead are not a widely known name in search technology outside of the industry itself, this was a very bullish presentation from Raymond Bentinck. And it looked like he had good reason.
Bentinck's presentation only actually contained 5 of the 10 lessons to be drawn, with the claim that you could find out more by visiting their exhibition stand. Although billed as a specific case study related to the Scottish Government website, this was more of a general overview.
The five points were:
Users want a web search experience
A web search experience is not enough for enterprise search
There are some simple reasons why most people dislike their existing enterprise search
You need to understand total cost of ownership
You need to look beyond search
The first two points were fairly straight-forward and well established. Google has 'trained' the masses to expect a two or three word search to locate material they are interested in. This works on the web because we don't know what Google has missed.
The example Raymond gave was a search for "water pollution policy". Plug that into Google, and you'll get some reasonable results. However, 'reasonable' results are not good enough in an enterprise situation because the user also has 'context'. The search "water pollution policy" within a business may be referring to one specific document. Exalead's solution seemed to be a mix of trying to improve the quality of document indexing, and to allow the user to apply facets to their search results.
In terms of point 4, understanding the total cost of ownership, this was little more than a plug for the fact that since Exalead host the index and search application, you don't have to. There was a chart which showed an impressive cost-saving for rightmove.co.uk, which had reduced the cost of each search from something like 0.06p per transaction to 0.01p per transaction. Since they were handling 400 queries per second at peak load, that soon builds to a significant saving. Whether they are still having to handle a peak of 400 queries per second during a national house-price crash remains to be seen.
Whilst the BBC have been dithering about their approach to external linking, Raymond showed his fifth point, think beyond search, using an Exalead labs project, Wikifier, that automatically added Wikipedia links to the BBC News site. They'd also done some really interesting work around searching Wikipedia, and automatically extracting semantic information from the wiki data.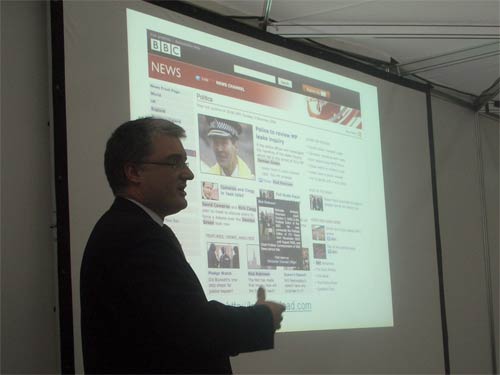 "Impact of Web 2.0 on Search" by Karen Blakeman
"Don't think of YouTube as just being copyright theft of pop videos."
Judging by her Twitter stream, Karen Blakeman had a hectic time at Online Information, but I just managed to catch one of her multitudinous appearances, talking about the impact of Web 2.0 on search.
Karen insisted she wasn't going to give a definition of Web 2.0, because, she argued, however you defined it, the power behind it was people. For that reason she also included such ancient web technologies as forums and Usenet as manifestations of a people-powered web.
She recommended that people explore web search beyond the confines of their normal comfort zone, exploring the additional tabs on services like Google and Yahoo!, and expanding the number of search engines people used. She stressed that nowadays video and photo-sharing were not just "pictures of your daughter's birthday party", but serious business demonstrations, diagrams and sources of information. She also said there was plenty of interesting, if sometimes 'outlandish' information to be found on blogs.
"I know 95% of blogs are rubbish and drivel, but serious researchers publish to blogs, and businesses use blogs to monitor their reputation."
Karen didn't particularly rate any of the specific blog search engines, suggesting that the best bets were Ask and Live, and that the trending graph feature of BlogPulse could be useful to track down the first mentions of products and services in the blogosphere.
She was one of many people I saw trying to explain Twitter to a bemused audience. She took the approach of not showing what it did, but showing who was doing it. If No 10 Downing Street, Stephen Fry, the BBC and The Times were all tweeting, then there had to be something to it.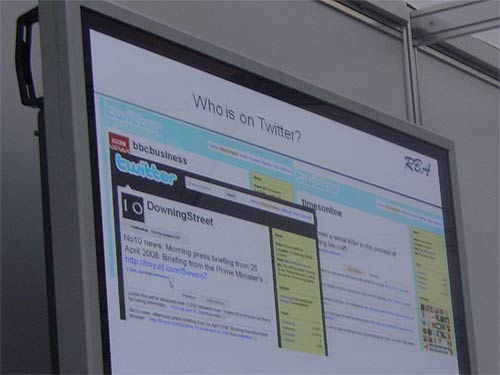 Karen's talk really covered a lot of interesting ground, including custom search engines, people searches, and how local authorities near her are using sites like Flickr to publish information. Her slides are available on SlideShare and well worth a peek.
Next...
Tomorrow, in the final part of this series, I'll be looking at 3 more things that caught my eye at Online Information: "Turning The Pages" from the British Library, the presence of Google Knol, and a presentation about a topic you may have noticed I've written about a couple of times before - ACAP.