Mumbai terrorist attacks show that search engines still can't get breaking news right
We are used to hearing that search engines are one of the primary routes that people find news on the net, but I've just been having a scout around the three major search engines as news of the terrorist attack in Mumbai unfolds, and I have to say that they are not performing very well.
Google does have some news results inserted into the one word search for 'mumbai', but they are not in the top slot. Searching for 'india' had the story down in fifth place, underneath some video content unrelated to the attack.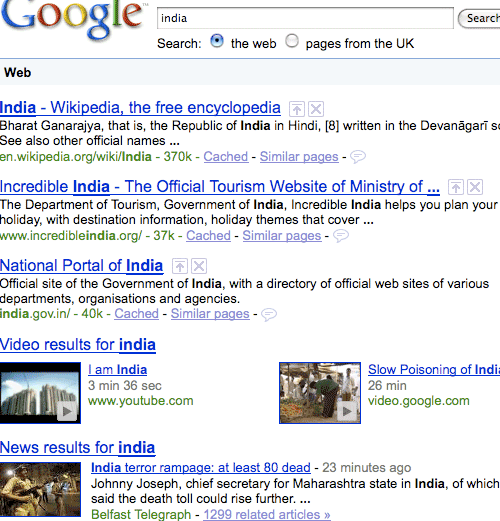 And, no offence to the Belfast Telegraph, they wouldn't be my #1 source of international breaking news - although all credit to them for covering the story out of office hours.
Things are considerably worse on other search engines however. The extensive terrorist attacks haven't yet managed to dislodge a story about George W. Bush and Thanksgiving turkey from the UK homepage of Yahoo!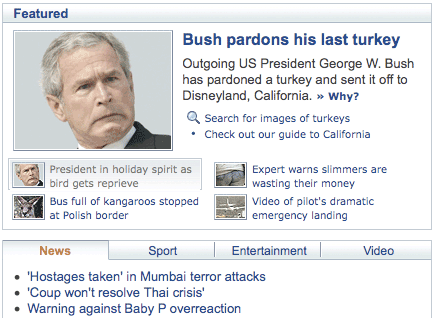 As you start searching for Mumbai, the site prompts you with "hotels in Mumbai" as a suggested search. A highly relevant query, except that Yahoo! are trying to push you to buy rooms, rather than give you breaking news.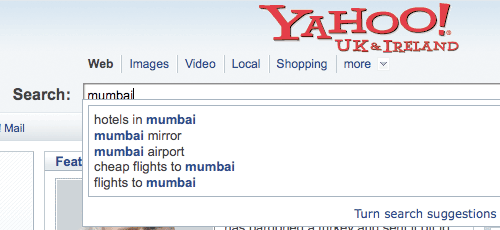 Microsoft's Live Search does no better. A search for Mumbai currently produces no breaking news, but plenty of commercial content urging you to fly there, or get discounts on staying in hotels in the city where tonight they have been terrorist targets.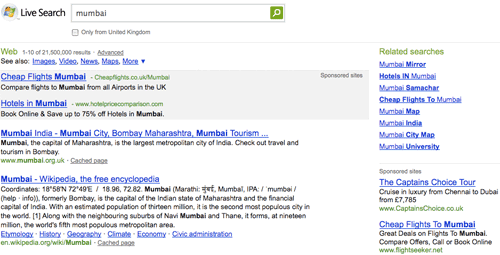 There is clearly still an important role at the major search engines for an editorial eye to be cast over search results and advertising during times of major global breaking news incidents.
And, if you compare and contrast with some of the newspaper coverage happening online - The Times already has a 650+ word analysis piece by Jeremy Page with video up for example - then maybe there is life left online for those news dinosaurs after all.