eCommerce Expo at Kensington Olympia
Last week I went to the eCommerce Expo at Olympia in Kensington.

The big draws
Google were clearly the big draw of the day. Their AdWords stall was slickly presented - and the credit crunch hadn't stopped them populating it with high-end Macs to do their sales pitch and sign-ups. They were also running AdWords 'universities', which were absolutely packed.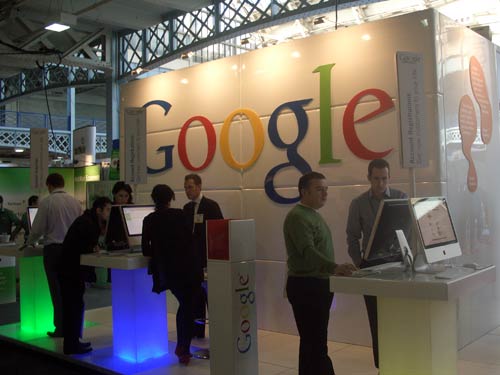 Paypal also had a big presence, sponsoring a networking lounge in the middle of the hall. I felt a little bit sorry for a couple of stands that were promoting alternative online payment solutions nearby, dwarfed by the Paypal branding and the purposefully murky entrance to their 'Are you making shoppers feel unwelcome' themed stall.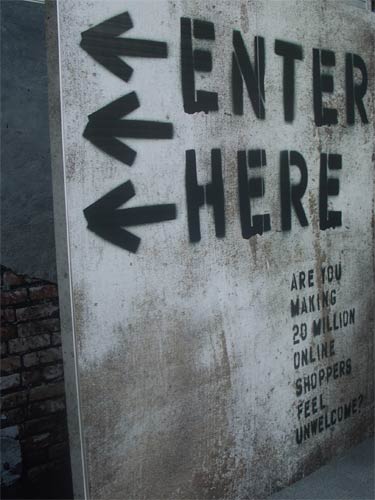 "The benefits of advanced onsite search"
One of the features of the eCommerce Expo is a series of 'seminar sessions' run at the back of the Olympia Hall. The first one that I attended was by SLI Systems, presenting a case study from the Purely Gadgets website. Since I'm in the middle of a series of posts based on my presentation at Euro IA about getting site search right, it seemed churlish not to go to a session entitled "The benefits of advanced onsite search". Incidentally, I'll be continuing with part 4 of that series on Wednesday.

Purely Gadgets is one of those fantastic web entrepreneurial stories. It started with Alan Lim realising that he could make money by buying electronic gadgets on eBay on days when it was sunny in London or there were big football matches on, and then re-sell the items on cold rainy days when there were more people bidding right at the close of eBay auctions.
Nowadays the site is a fully-fledged eCommerce destination, and the case study was about how SLI had improved the bottom line for Purely Gadgets using search. All the usual suspects were in place - faceted navigation, covering search terms that were incorrectly spelled, triggering landing pages and banners on specific keywords and so on.
I was a bit disappointed that there didn't seem to be much hard data about user behaviour to actually support the assertions that this was an improvement on the site's search. For example, one slide showed how a user searching for 'ipod' would get search suggestion links above the results for related search terms like 'ipod classic', 'ipod nano' etc, but there was no indication about whether people used these search suggestion links, or whether they subsequently had good conversion rates after being clicked.

I did take one useful figure away form the presentation though, Lim said that 23% of users took advantage of the auto-complete drop-down when entering a search.
"10 proven tactics to help boost your eCommerce revenues"
The second session I attended was run by CommerceNow, and was a really good overview of ten ways to improve a transactional site. None of the points in themselves were particularly revolutionary or ground-breaking, but I thought Ravi Damani packaged them up well into one coherent presentation.
He focused on four fundamentals - getting more traffic, converting more of that traffic into sales, getting those customers to spend more, and getting them to come back more often. Each of the ten points in the presentation addressed one or more of those key concepts.
Ravi brilliantly dissected the problems with a web check-out procedure from the Boots site, which required seemingly endless form-filling from the user and consisted of 6 multi-page steps. Instead he showcased their own one-page check-out process for Blue Inc. This employed devices like dynamically altering the form inputs displayed based on the first four digits of a credit card number once the card type had been recognised.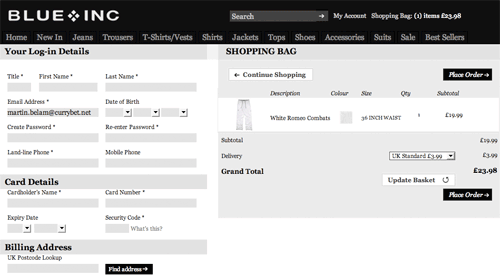 Another good point made was about the values of reviews and user-generated content about products. Ravi stressed that sometimes it isn't even the content of reviews that are important. The very fact that a product page displays user-generated reviews shows that the retailer has sold this product and successfully delivered it to users. This can help build up trust between the retailer and potential consumer.
Personally, I was heartened to recognise a few of the points he made as things I had tried to do when streamlining the product pages and check-out process of the now abandoned Sony Connect store when I worked in Austria.
And point nine was a takeaway message that dominated the services that a lot of people were trying to sell at eCommerce Expo - "Love Google".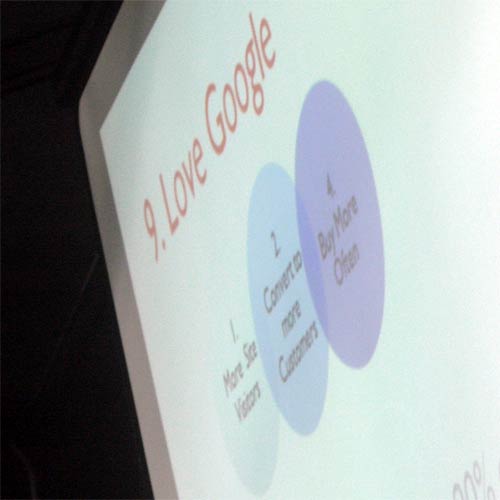 eCommerce Expo downside
There were a couple of things that I didn't particularly enjoy about the set-up of the eCommerce Expo.
I had hoped to go to the session being run by Webcredible - "Web usability - is your eCommerce site working?". I was particularly interested to see how the advantages of usability testing would be portrayed to a hard-nosed eCommerce audience focussed on ROI, rather than at the usual conferences I attend when everyone in the room is already convinced that people don't spend enough time or money on usability and careful information architecture development.
Sadly, despite queuing outside the session with a host of others in an orderly fashion for over ten minutes, I didn't get in, because there was no effective management of the scrum of late-comers who just shoved their way through.
I was also surprised to see 'dolly birds' on hand. I had thought that the digital B2B marketplace, as a recently developed industry, wouldn't have the legacy of sexist marketing ploys at trade shows that sectors like the motor industry are associated with. I was wrong, as at least two exhibitors had young girls clad in tiny tops and mini-skirts doing nothing but handing out leaflets and acting as eye-candy. I thought that was really, really tacky.
Next...
One of the main attractions for me attending the eCommerce Expo was the lunchtime Chinwag Live session on "Social Media ROI", and tomorrow I'll be writing about that.