Taking the 'Ooh' out of Google: Getting site search right - Part 3
This week I've been presenting a series of posts based upon my Euro IA Summit presentation - "Taking the 'Ooh!' out of Google - Getting site search right for news".

In an era where search usage is dominated by Google, it is important to make sure that site search doesn't just return great results, but that it does it in a way which offers a distinctive experience from Google.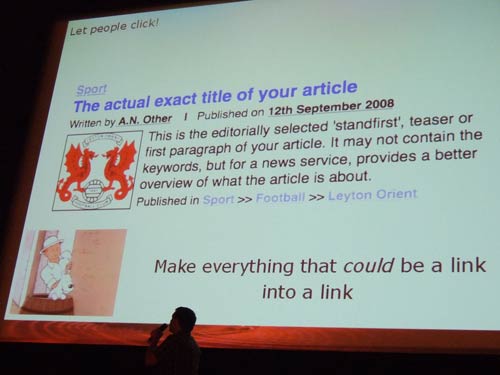 Yesterday I was looking at some of the information that Google doesn't know about your content which can be exploited to improve the search user interface. Today I want to look at making search engine results more visual.
Use thumbnail images
Google's "universal" search results insert relevant news stories at the top of a result set, if Google thinks this is appropriate to the query.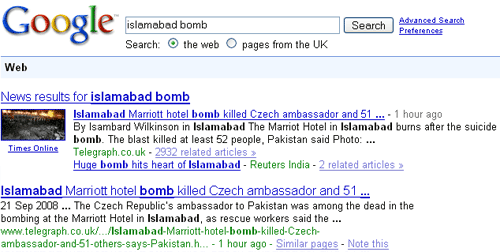 News results from Google often include a thumbnail image associated with a particular story. However, on a site search, you have the ability to bring back thumbnail images for every result. If your CMS associates a promo image or a thumbnail sketch with a story, then you can display it against your results.
The inclusion of thumbnail images can aid quick comprehension of whether a result is on topic for a query. There are some risks here of course - if the results are not relevant to the query, then the inclusion of irrelevant pictures will emphasise this.
German news site Welt Online uses thumbnail images where they are available in their SERPs. This gives a visual clue for every story as to whether a user is on the right information 'track'.


The Helsingin Sanomat in Finland has good use of thumbnails in their search results page. The images are offset to the right here, which I slightly prefer, as it retains the left-alignment scanability of the text snippet underneath the headline.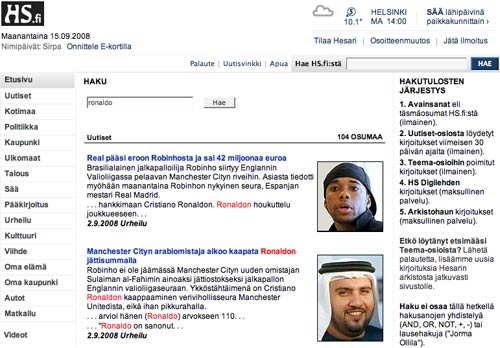 The Corriere della Sera in Italy was a great example of the use of thumbnail images in aiding the user. When I searched for Ronaldo I was very quickly able to judge whether the results I was getting were about football, or about footballer's wives. [1]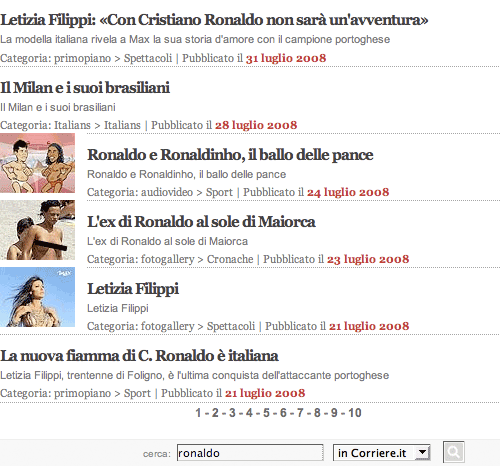 One note of caution - if you use a lot of stock photo imagery you may find search results with ten copies of the same image on them. This is the case here with a screenshot from Dutch paper De Pers.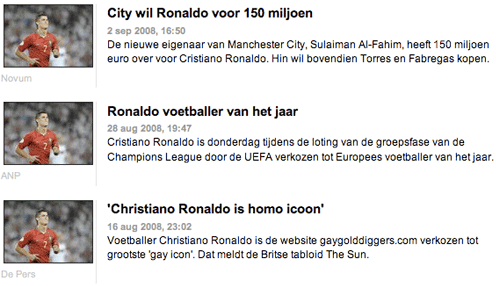 You can get around this by running a de-duping algorithm on the image filenames, stripping out duplicates from appearing.
Next...
In the next part of this series I'll be looking at some of the positive - and negative - ways that European newspapers handle the concept of 'Advanced search'.


[1] Why use Ronaldo as a search term? I needed a word that would cross international language boundaries, and would have been covered by a large range of European newspaper publications. As a Leeds United fan it pains me greatly to have chosen 'Ronaldo', but it was very useful. Although the word is widely used, there is also ambiguity in it - did I mean Manchester United's Cristiano Ronaldo, or former Inter Milan and Real Madrid Brazilian striker Ronaldo? It also gave me an opportunity to link to the fantastically headlined De Pers story 'Christiano Ronaldo is homo icoon'. [Return to article]