A storm in the Ionian for the BBC and The Guardian
I got back from a round-trip to Amsterdam, London and Gelsenkirchen to pick up a copy of my local Greek newspaper and find a media storm surrounding the BBC and The Guardian over their reporting of Corfu.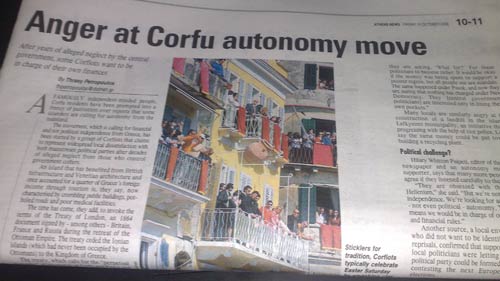 Reports appeared in the UK media about some members of the community on Corfu wanting a measure of independence from the political elite in Athens, who are perceived to be growing rich on the back of Corfu's tax payments, and giving little in return. In The Guardian, Helena Smith reported: "'Neglect and disrepair' leads Corfu dissidents to seek split from Greece", whilst the BBC had a story "Pressure for Corfu autonomy grows"
According to a report in the Athens News, the response of prominent politicians on the island has been dismissive. Prefect Stefanos Poulimenos stated:
"The report in the UK's Guardian and the television coverage on the BBC refer to a non-existent situation. We wish to protest strongly against [both] reports, and we urge them to check their local sources who are feeding them these laughable [stories]."
The BBC's Athens-based reporter Malcolm Brabant has also been feeling the heat:
"I stand by the story. It touched a raw nerve, and - as is so common in this country - the reaction has been to shoot the messenger. I have received some hugely amusing emails accusing me of being an agent for Mossad, MI6 or the CIA. I could never be a spy because I cannot keep a secret."
Ludicrous accusations and the inability to keep a secret - it sounds like he must have gone to journalism school with financial crash scapegoat Robert Preston!