Latest Team GB news feed now on Chipwrapper...but not the BOA site
As Olympic Chipwrapper is focussed on British news about the Olympics, I've added the official Team GB RSS feed into the headlines mix, so that as well as seeing what British newspapers are saying about the Games, you can see what the BOA thinks.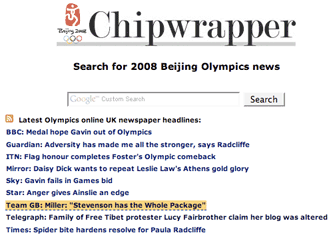 At the moment, it is one of the easiest places to find British Olympic headlines, as I had to do a bit of a hunt around for the feed address.
The BOA site claims to have RSS. Browsers auto-discover that a feed exists because it is specified in the HTML - but it is specified as:
<link rel="alternate" type="application/rss+xml" title="RSS 2.0" href="rss/news/" />
That almost certainly works fine - unless you've redirected requests to http://www.olympics.org.uk/ to http://www.olympics.org.uk/beijing2008/. Which they have for the duration of the games.
It is an easy mistake to make - the address should be relative to the root of the site, not relative to the page you are on. It will be easily rectified with one 'forward slash' in the link tag, and I've contacted them to let them know. Hopefully they can get the fix in before the Games start.
<link rel="alternate" type="application/rss+xml" title="RSS 2.0" href="/rss/news/" />
It is a shame, because otherwise the site looks good.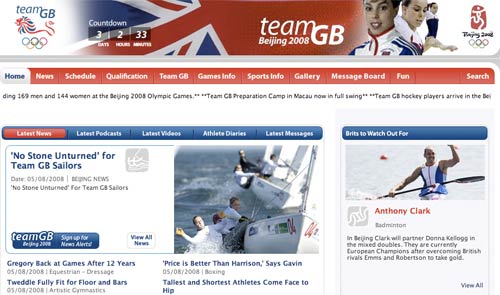 It seems well designed, and has some very nice touches, like using the Beijing iconography for each of the Olympic disciplines, and it seems to have its heart in the right place, with podcasts, RSS feeds, image galleries, and personal profiles of this year's 'Team GB'.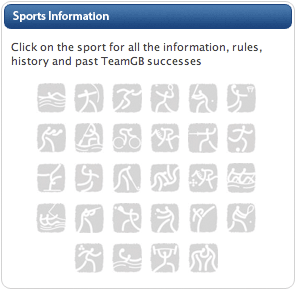 I'm in Macau at the moment, and I've seen members of the British Olympic team and their support staff wandering around the place, with their Olympic accreditation hanging around their necks where they hope ultimately medals will be placed. Some of them have had their departure to Beijing delayed by tropical storm Kammuri. It has also rather annoyingly pretty much kept me indoors for the last couple of days - hence having to time to fiddle around searching for the correct address of their RSS feed!