How was it for you? A month of Twittering
I've just spent quite a few weeks away from home, first in Miami for the IA Summit, then in London where I was working with The Guardian and another couple of media clients. Whilst I was in the UK I adopted Twitter for the first time. So how did I find it?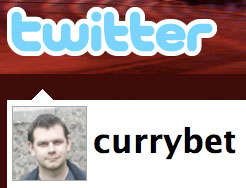 Not the SMS please
First off, I found that once I'd initially configured Twitter to SMS me updates, I pretty soon switched that off and restricted the service to only trigger an SMS for direct messages. I did, though, find sending tweets via SMS to be compelling. Notably even when I was in an accident on the tube, I 'kept my twitter hand free'.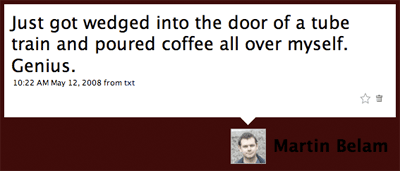 twhirl is the client for me
I was introduced to twhirl whilst sitting next to someone in John Ferrara's excellent session on Games UI at the IA Summit, downloaded it, and instantly adopted it.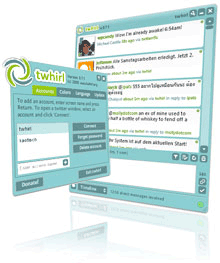 I'm no link whore
One thing I realised early on was that almost every single person following me was someone who I thought was likely to be an RSS subscriber or regular reader of currybetdotnet - which meant the idea of pimping blog posts via Twitter didn't appeal to me. A lot of the online marketing 'experts' I read from the search engine world recommend that you tweet every time you blog, but I didn't really see that model working for me.
You can pretty much rely on one currybetdotnet post at 6:55am UK time and one link dump at 2:36pm UK time every single day. The only time I 'tweeted' a link to the site was on the odd occasion where I'd made a second timely post of the day about something that had really annoyed me.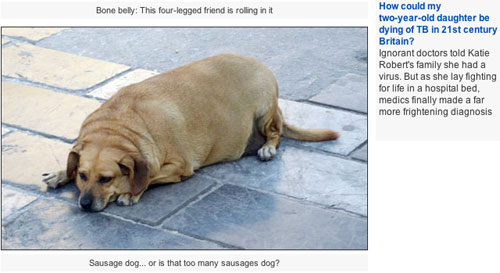 Twitter killed Facebook for me
Updating my Facebook status just died a death whilst I was twittering. It mostly didn't occur to me to update Facebook, because sending an SMS or using twhirl was more compelling. I also resisted the temptation to link the two together. Although Tom Dolan helpfully pointed me to the easy way to do it, they are very different micro-audiences, so I didn't.
So now what?
I'm back in bandwidth compromised in Greece. Unless I've specifically got a work project to do, I get my laptop online with someone else's broadband for only a limited time most days. When that happens I'm usually working quite hard, and so I don't think I want twhirl open as a potential distracting tangent generator.
My plan is to cease all use of Twitter whilst in Greece, and resume when I am back in the UK for some more work in a few weeks time.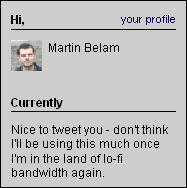 But... I think I'm probably hooked, so we'll see...