'Real World Usability' Chinwag Live event
On Tuesday night I went to the latest Chinwag Live event, a panel discussion about 'Real World Usability', held underneath the Slug & Lettuce on Wardour Street. The panel for the event featured Andy Budd, Paul Dawson, Udy Ravid, Niqui Merret and Bryan Rieger, and it was chaired by Giles Colborne.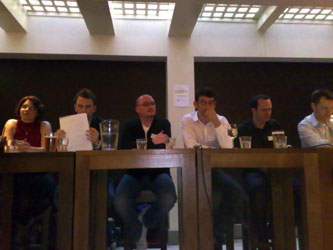 Andy Budd and Paul Rieger were the most vocal of the panelists. Andy's philosophy was that usability wasn't a 'taught' skill, but something that one acquires with experience. Whilst you can get qualifications in HCI and related fields, there is nothing like having had ten years of watching people fail to use digital products to give you design insight.
He didn't seem to be a fan of taking the 'big agency usability lab' approach to testing, suggesting that many of those glossy reports end up unread and not being acted upon. Instead Andy was a strong advocate of 'guerilla testing'. He felt that 'user experience' was a conglomeration of skills that include usability and accessibility, but that no amount of 'usability' would make a bad idea into a good one. He said he had used Twitter, Facebook and other social media and networks to recruit for small-scale testing.
He also suggested that web and mobile UI designers could learn something from the games industry - a common theme in a lot of presentations I've seen recently. He cited how Microsoft games developers focus on whether a player is enjoying the game - measuring the emotive and engagement responses, rather than simply ticking task-driven boxes.
Paul Dawson described the way his agency has moved into 'experience planning' for clients, where all the offline and online elements have to work together, even if an agency is only working on the digital side of things. Skills such as copy writing, which haven't tended to be bracketed with 'user experience', are, he felt, an important part of a 'holistic' approach to UX.
He was concerned that a narrow focus on usability and a conservative approach to conventions had constrained design. He gave the example of the online shopping basket. Everybody looks to Amazon as 'best practice', but who made them 'best practice'? They are seen as best practice because the site is popular and successful, but that doesn't necessarily mean that copying their check-out process works for every type of online store or audience. Paul described usability and accessibility as 'hygiene' factors, that should be under-pinning principles of any design process.
Udy Ravid works at eBay, and he made some very useful contributions to the debate. When looking at user feedback and feature suggestions, he urged some caution. He stressed that for eBay to work, at every step of the process the design has to work well for the buyer, work well for the seller, and, of course, work well for eBay. If lots of user suggestions come from sellers, they may all in turn look reasonable, but the overall effect could be to the detriment of the buying user experience, or to the eBay business model.
Udy also lamented that the industry doesn't have enough people who have worked in the UX field, and then moved into product management or strategy roles, which can help enthuse a business and the products and services it produces with a user-centred philosophy.
Niqui specialises in accessibility, and wanted to get across that usability and accessibility are not interchangeable concepts. You can have a product that is accessible because there are no barriers to getting content, but that is still not usable. She tries to get companies to work hard on making the accessible versions of sites and services be usable as well.
There was some discussion about how usability and Agile development methodologies can fit together, and Brian Rieger had some good pointers. Because of the cycle of iterations involved in agile development, Brian was keen to see designers, usability experts and developers working together on collaborative design. He felt that giving developers much lower fidelity designs to work with encouraged debate amongst the different disciplines, and allowed you to get buy-in from the technology teams for complex features that might take more than one or two SCRUMs to develop.

It was the first Chinwag Live event I've managed to get to, as although they've ventured up to run events in Manchester, the Chinwag crew are yet to reach Greece. I had a really good night there, seeing some ex-colleagues from the BBC and a few other people that I've met at various IA Summits, and picking up a couple of tips on 'dirty' user testing.
I understand the soundtrack will be published in audio format on one of the CNET Networks sites in due course.