Not going anywhere today with Expedia
I was just trying to tie up some loose ends of my travel arrangements this morning, and wanted to price up the relative merits of flying around Britain rather than using the rail network. All my instincts tell me that, at short notice, it will be much cheaper for me to vastly increase my carbon footprint. However, I wasn't getting any of the information from Expedia.
A visitor to their site this morning was getting a positively old-fashioned "We've taken the whole site down for a re-fit today, sorry about that chaps" message.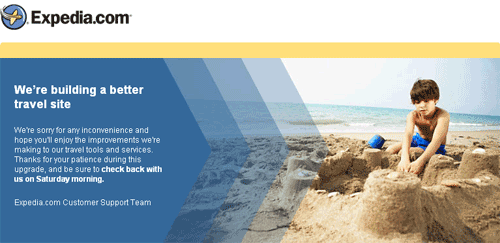 Based on their second-quarter earnings last year, my quick rough estimate is that it will be costing them around $44,000 profit per hour to have the site totally unavailable.