7 years of Google April Fool jokes

by
Martin Belam
, 1 April 2008
If the tech and search blogosphere isn't awash this morning with posts about Google's latest April Fools prank, then we'll know that corporate culture has finally bitten hard at the Googleplex. In just a few years, the Google April Fool has become something of an internet tradition.
Last month there was already even speculation as to what the joke might be, with the discovery in Google Documents of an animated rival to Microsoft's annoying paper-clip 'helper'. This was strenuously denied by Neil Fraser, the self-styled Google 'programmer and wizard' involved:
"Cliply was not an April Fools joke. It was a quick easter egg I added into the code for fun. We have a lot of easter eggs lurking in the code. There was no intention to do anything more with it." [1]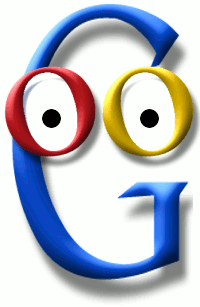 In 2007, the company used April 1st to promote two new services, perhaps indicating that the company has developed into so many business units that one April Fool joke is no longer sufficient. Google Paper was a proposed extension to the Gmail service, which allowed users to have Google print their email and attachments and have them sent by post. Like many Google products, the service was intended to be ad-supported, with contextual advertising related to your email appearing on the back of the envelope Google posted to you.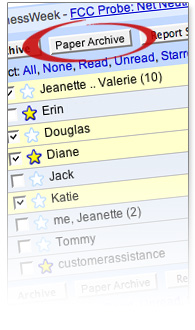 At the same time, Google claimed to be offering free broadband internet connections via your toilet and sewage system using TiSP. Again, the revenue was to be generated by serving the user contextual advertising, this time based on analysing what they flushed down the toilet. One of the hallmarks of a Google April Fool has been their attention to detail, and perhaps the cheekiest thing about the Google toilet internet service was that it only worked with Microsoft Windows XP or Vista, although support for Mac and Linux users was promised soon.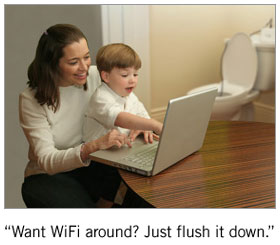 Google's 2006 April Fool's joke turned the company's attention to one of the few markets where they don't have a presence, or haven't acquired one - online dating.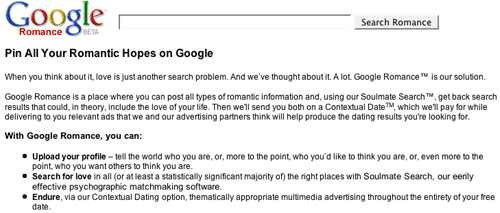 Google Romance promised to use the companies famed algorithmic prowess at search to help match you to your soulmate. Dates were free, but again the user had to 'endure' multimedia contextual advertsiing throughout the course of the evening. The service came with a glowing front page testimonial:
User A: Finally I've found my Soulmate! Thanks, Google Romance!
User B: I never thought I'd be writing an online dating testimonial. Until I met User A...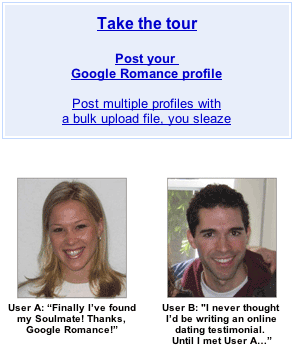 The previous year, Google seemed to be threatening to break out from the virtual product world, into the physical one, with the launch of a Google-branded brain tonic drink. The 2005 April Fool was Google Gulp.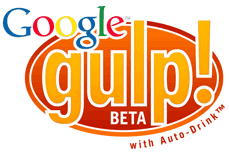 The proposed product neatly sent up the way that Google had initially launched several of their high profile products by invitation only, including Gmail.
"You can pick up your own supply of this 'limited release' product simply by turning in a used Gulp Cap at your local grocery store. How to get a Gulp Cap? Well, if you know someone who's already been 'gulped', they can give you one. And if you don't know anyone who can give you one, don't worry - that just means you aren't cool."
Google Gulp had some privacy concerns, since the bottles were intended to analyse your DNA as you drank in order to optimise the experience to your personal needs. The small print on the Google Gulp page was intended to reassure would-be drinkers.
" From time to time, in order to improve Google Gulp's usefulness for our users, Google Gulp will send packets of data related to your usage of this product from a wireless transmitter embedded in the base of your Google Gulp bottle to the GulpPlex, a heavily guarded, massively parallel server farm whose location is known only to Eric Schmidt, who carries its GPS coordinates on a 64-bit-encrypted smart card locked in a stainless-steel briefcase handcuffed to his right wrists. No personally identifiable information of any kind related to your consumption of Google Gulp or future Google Foods product will ever be given, sold, bartered, auctioned off, tossed into a late-night poker pot, or otherwise transferred in any way to any untrustworthy third party, ever, we swear "

You'd need more than Google Gulp to survive on campus in Google's 2004 prank, when they announced job opportunities in a new lunar based data-centre. Google actually caused some confusion that year, by also announcing their new Gmail service at the same time. Despite it being about the only positive internet story to make the billboards of London's Evening Standard, several news organisations and a lot of people online thought the Gmail press release was a hoax.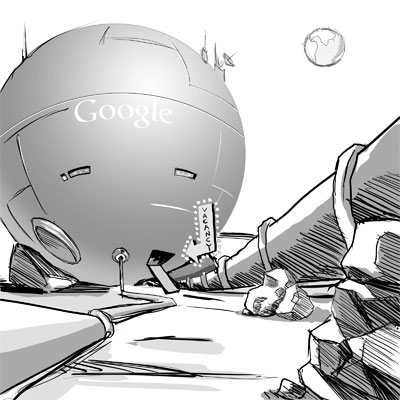 This is not the only time that Google has used the moon as the location for a joke. When it was first launched, the zoom facility on Google Moon revealed what right-thinking scientists have known for a long time - that the moon is made of cheese.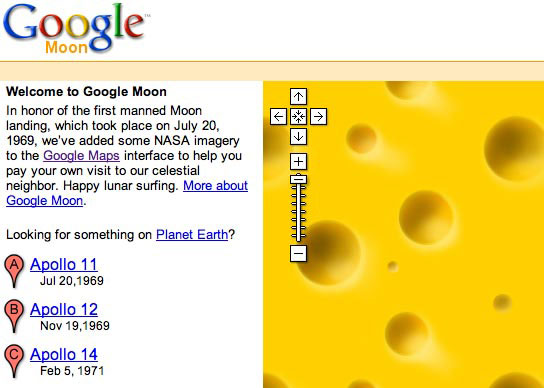 This joke was removed recently when Google partnered with NASA to provide a rather more comprehensive Moon mapping product
2002 featured probably my favourite Google joke, an explanation of the PigeonRank technology behind Google's results. In what I liked to think was a dig at the blossoming SEO industry that was busily trying to reverse engineer the Google search algorithm, Google announced that the hard work was done by pigeons.

"Google's pigeon-driven methods make tampering with our results extremely difficult. While some unscrupulous websites have tried to boost their ranking by including images on their pages of bread crumbs, bird seed and parrots posing seductively in resplendent plumage, Google's PigeonRank technology cannot be deceived by these techniques."
Perhaps Google's oddest prank was in 2001, since it genuinely affected their main search product. Intermittently during the day, users reported seeing search engine results that were in reverse.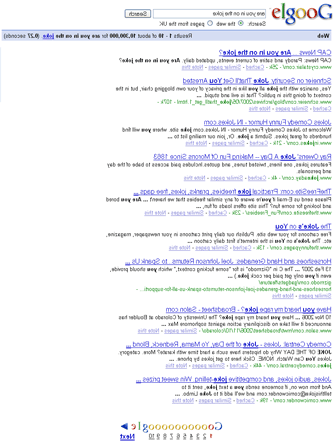 Not as in the sense of having results listed from #10 to #1, but in the sense of reading from right-to-left, complete with an 'elgooG' logo.

There is still some debate to this day as to whether this was a genuine April Fool from Google, or the result of some template errors in one of the data-centers, caused by the impending launch of Google's Farsi search service.
There is no doubt about Google's first foray into the high profile April Fool stunt however. On April 1st 2000 the whole genre was started with the announcement of Google MentalPlex, a system that allowed users to search the internet by simply staring at their screen and thinking about what they wanted to find.

MentalPlex can be used by anyone on the Internet but this technology is especially useful for:
* infants, Luddites, chimpanzees and other primates who can't type
* people who know what they want but have problems expressing themselves clearly (e.g., shy persons, 14-year-old boys and actors accepting Academy Awards)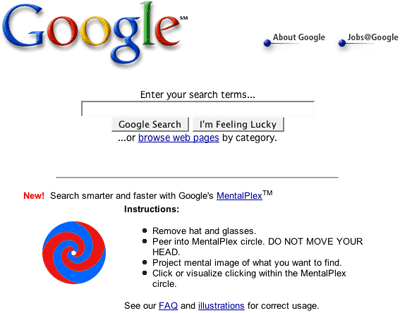 The FAQ claimed that the system had been developed from military technology, and was emphatically not mind-reading:
"Don't be ridiculous. Mind-reading is impossible. MentalPlex technology senses electronic field variations created by concentrated thought and can interpret those field variations as broad categories of content. Mind-reading? Really now. We're talking about science here."
The chances are though that nothing Google can do online will surpass the days when television was able to carry off believable April Fool's hoaxes. Here is a chance to enjoy again the 1957 Panorama report on the spaghetti trees of Switzerland courtesy of YouTube.
[1] Of course, with it being an early Easter this year, the distinction between an Easter Egg and an April Fool is only a few days ;-) [Return to article]