Postcard from Macau #10: The grave of the magnetic telegraph engineer
I recently spent three weeks visiting Macau, the former Portuguese territory on the south coast of China. As a former colony like Hong Kong, it is now a 'Special Administrative Region'. This post is one of a series looking at aspects of information design, user experience, internet use and journalism that interested me when I was there.
As Macau was a Portuguese colony, the chief denomination of Christianity in the region was Roman Catholicism. That meant that for many years there was nowhere for the small Protestant population or visiting non-Catholics to be buried. Eventually this was rectified with the building of a Protestant cemetery by the East India Company in the 1800s. Bodies that had been clandestinely buried in the hills around Macau were reinterred here.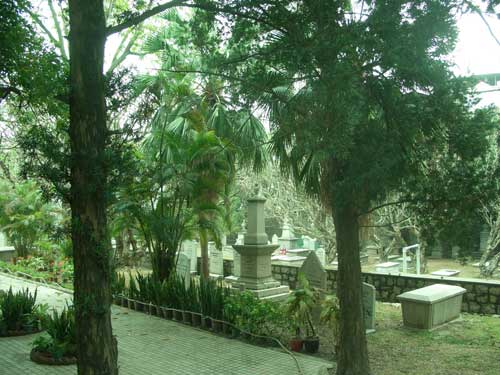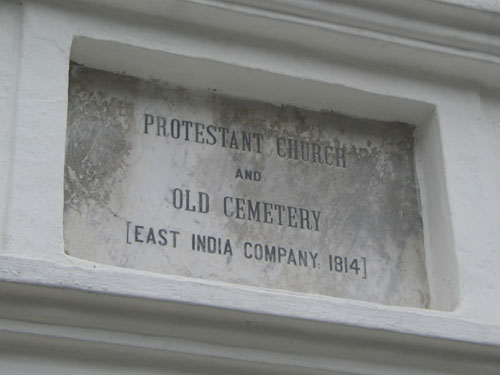 One grave in particular stood out. It belonged to American John P. Williams, from New York State, who died just over 150 years ago in 1857. On the headstone he is credited with assisting the 'setting up of the first magnetic telegraph in Japan in 1854'.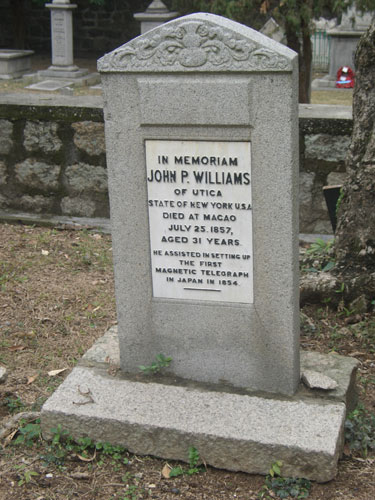 I tried to find out a bit more about this Japanese telegraph installation. It seems that John P. Williams was part of the team bringing the first gifts from the U.S. to Japan. In 1854 steam locomotives from Philadelphia were demonstrated in Japan, alongside the telegraph. The presentation took place near Yokohama. Commodore Perry's description of the event is preserved online by the Japan America Society of Greater Philadelphia.
"This being over, we now proceeded to examine the present sent by the President to the Emperor, and particularly to witness the operations of the magnetic telegraph and the movements of the locomotive engine around its circumscribed track, preparatory to these and other articles being formally presented and received."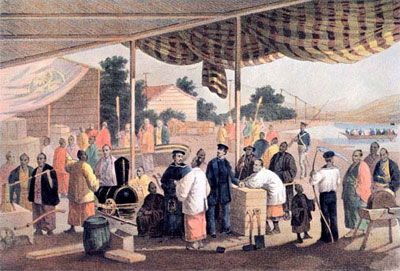 Japan got a regular undersea cable telegraph service a couple of decades later, in 1870.
I've identified a couple of other academic articles about the arrival of the telegraph in Japan via the friendship of the Americans, but sadly they are behind the academic subscription firewall. The research budget for currybetdotnet doesn't stretch to speculatively purchasing documents yet!