Making the most of blog comments: Part 1 - Promoting blog comments
One of the great strengths often cited about the blogosphere is the fact that it is a 'conversation', and the ability to leave comments on individual posts has long been an integral part of that. However, it isn't always clear how to get the most out of the comments left on a site.
With blogging, a lot of the emphasis is on the continual update, the perpetual breathless rush to publish something new. That doesn't leave much space for the considered reflection of what has been posted onto a site by the users.
I started to think about this problem late last year, when there was a sudden flurry of interesting comments on old currybetdotnet articles, and I realised that a lot of my regular readers would never get to see them. I wanted to find a way to make better use of that content, and to alert people to comments I thought were interesting.
Over the next few days I want to look at some of the ways that you can make the most of the comments on your blog. I'll be looking in detail at the pros and cons of implementing a couple of these methods, and tomorrow I'll start publishing the results of a survey I've done across 100 blogs to see what the most popular methods are.
Today, though, I wanted to start with a basic list of all the different ways I've seen people give more exposure to the comments on their blog beyond simply listing them underneath the relevant post.
'Recently commented' list
Some blogs include a list of 'Recent comments' in their left or right-hand navigation columns. Frequently these take the formula 'person' commented on 'post title', and people generally list between 3 and 10 recent comments. This may be a case where it is useful to bear in mind the 7±2 rule when choosing how many recent comments to display.
'Most commented' list
Usually similar in format to the 'recently commented' list, the posts in this list are those which have attracted the most comments over time. When included in a blog's navigation this can serve a dual purpose, as it is likely that the posts that have attracted a lot of comments will also be the busy and popular posts from the archives worth showcasing.
'Most active' list
Although a little harder work to set-up from a template point of view, a 'Most active' post list combines both of the above into one formula. The idea is to display a list of posts that have received a lot of posts recently. This avoids the situation where that one post from 2003 which attracted nearly 100 comments is permanently lodged at the top of the list.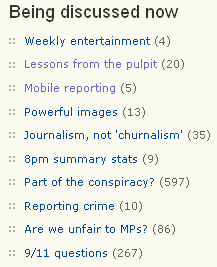 Comment RSS feed
Some bloggers provide a separate RSS feed that contains the most recent comments that have been submitted to the site. A lot of themes for the Wordpress platform provide this functionality out-of-the-box.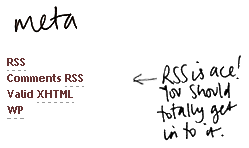 Comment feed on a per article basis
Both Wordpress and Blogger provide easy options to produce an RSS feed specific to each individual post on a blog. Users who leave a comment, or who are just interested in the conversation around an individual post, can subscribe in their usual feed reader to follow subsequent comments as they are left.

Combined comment and post feed
It is also possible to generate a mixed feed or 'splice' feeds together, so that people are able to subscribe to an RSS version of a blog that includes both links to articles as they are posted, and to any comments that are being left on the site.
Email subscription
There are plug-ins available for many blogging platforms that allow users to subscribe to an email update whenever a comment is left on a post, or to track responses to a comment they have left via email. In some ways this has an advantage over the RSS feed methods, as more people are familiar with email than with RSS. It also avoids the problem of leaving people with lots of redundant RSS subscriptions once the conversation on a post has died down.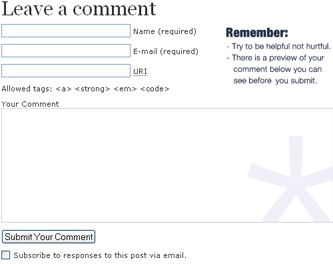 Comment 'index' page
A lot of blogs provide index pages to display multiple views of the same content - by week, by month, by category and so on. A comment index page is a similar listings page, but instead of listing articles and posts, it is a published list of the most recent comments. It allows the user, at a glance, to get an overview of the activity going on across the site.
Editorial round-up post
Another way of bringing interesting comments to the fore is to write a round-up of comments once a week. Or fortnight. Or month. Or however often seems appropriate. This might not suit the style of every blog, and is obviously more manual work, but it does provide a way of highlighting the 'hidden gems', rather than simply foregrounding every comment left on a site.
Which one works for you?
There isn't really a one-size-fits-all solution here. The choice of which method suits you best will be a personal one depending on your audience and blogging style. I tried, for example, to do a couple of 'comment round-up' posts, and found that I struggled to get the tone of them right. As a consequence I didn't publish them.
Another significant factor will be the ratio on a blog between posts and comments. A combined feed of posts and comments works fine if the ratio is something like 3 comments to 1 editorial post. However, if you are regularly attracting lots and lots of comments, your own content might seem swamped in a feed of that style.
Your audience makes a difference too - it isn't much good providing lots of mixed RSS options if you have a very non-technical audience who aren't going to take advantage of them.
Tomorrow...
Tomorrow I'll be looking at a survey I've carried out across 100 blogs, to see what methods they used to promote the content of their comments to their readers.