The programme for the 2008 IA Summit features 100 people either talking, hosting workshops or presenting posters. I was interested to see how many of those have blogs, and thought it might help shape my opinions as to which sessions I shall be attending at the conference.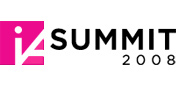 Having done the legwork to trawl through the list looking for bloggers, I also thought it might be nice to share. I found 37 participants with personal blogs that looked active. I've listed them below, along with the URL for their RSS feeds. I've also popped the whole lot into one OPML file so that you can import them into your feed reader of choice in one fell swoop.

IA Summit Bloggers 2008 - OPML file
I think I got everyone with a blog - even the right Peter Boersma and not the one impersonating him on TV - but if you notice someone I've missed then drop a note in the comments and I'll add them in.