24/7 TV news websites: Part 8 - Russia Today
Over the last week or so I've been reviewing the Web 2.0 credentials of the websites of the 24/7 news channels most widely available in English in Europe. Some of them, like the BBC, CNN, France 24 and ITN have several features which echo the most recent developments on the internet. Others, like Al Jazeera and Euronews are much more static old-fashioned affairs.
Today I wanted to look at the English language version of the Russia Today site. The site was launched in 2005, and also has Russian language and Arabic editions available.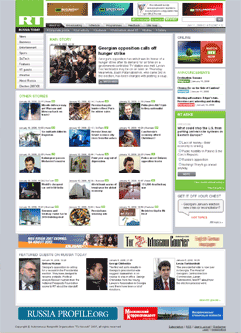 RSS feeds
Russia Today publishes content in the RSS format, but doesn't make it especially easy to find. Promotion for the feeds on the homepage consists of a small text link at the foot of the page, and the main feed is not auto-discoverable.

Russia Today doesn't seem to offer any feeds other than the main index. I thought the most likely place to find information would be under 'Extras', since the RSS link leads directly to the feed. However, 'Extras' simply offered a set of Russia Today wallpapers.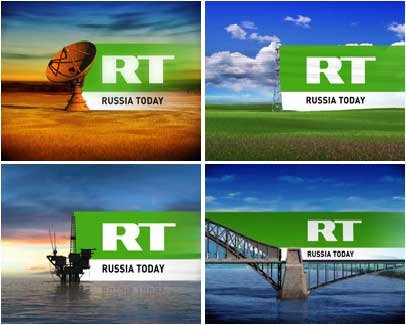 Blogs
Russia Today does not carry any content that it describes as 'blogs'.
Comments
Users are not able to add comments directly to story pages on the Russia Today site. There, is though, a message board. Called 'Get it off your chest', the message board can be found be selecting the 'Feedback' tab in the horizontal global navigation at the top of the page.

The message board is divided into broad categories, with threads that are editorially iniated rather than user-driven.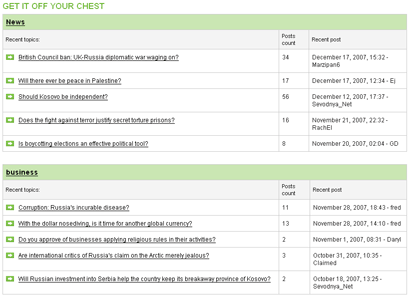 Topics are promoted around the site, with quote boxes in the right-hand navigation of story pages highlighting relevant debates.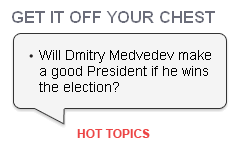 The message board does not seem a hive of activity, and at the time of review, many of the threads on the message board homepage had not had a contribution for more than a month.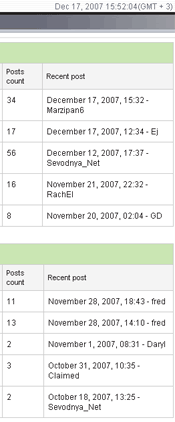 Voting
Russia Today features the 'RT asks' vote on their homepage. Users are able to see the current results without casting a vote themselves by clicking a text link underneath the available options.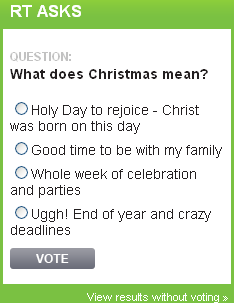 Social bookmarking
Only one social bookmarking link is included at the foot of stories on Russia Today, to the del.icio.us service. It takes the form of a text link rather than a graphical call-to-action. In fact, the link is not distinguished in any way from the regular body style of a story, making it easy to overlook.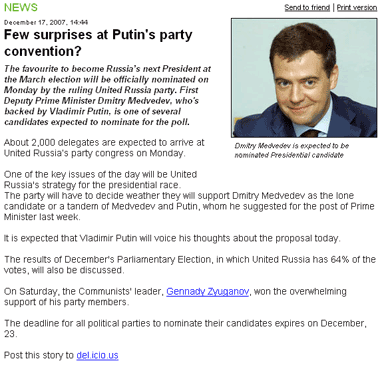 Next week I'll take my last look at an individual service in this series, with a review of the UK's leading commercial 24 hour news provider, Sky News.