It is so hard to be a Depeche Mode completist these days
It used to be so easy to be a Depeche Mode completist.
In 1981, their first single, 'Dreaming Of Me', was only available as a 7".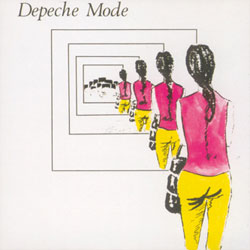 After that everything came as 7" and 12", with the occasional limited edition 12" remix or special format. The full excess of UK chart multi-formatting peaked in 1990 with 'Enjoy The Silence', which came on 3 different 12" singles, 3 corresponding CD singles, a 7" and a cassette.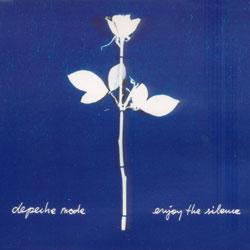 Record companies eventually realised that they were losing too much money, effectively hyping their singles up the charts by exploiting fans buying multiple copies, and so chart rules limited singles to first 5, and then 3 eligible formats.
The digital download age has seen that number creep back up. Lots of singles by bands with dedicated fan bases these days come in a plethora of mixes, all available individually from stores like iTunes. Depeche Mode have also in the past had limited edition downloads available only once you have verified the purchase of a physical copy of an album.
However, I've never before had to count on hardware being part of my collection. My wife has the U2 edition iPod, but that wasn't because of a love of the band, but simply because she'd wanted one for ages but as an ex-goth could only tolerate one in black, and that was the first non-white one that appeared.
Last week though, I picked up a leaflet in a Greek shop for a Depeche Mode branded mp3 player that had come out in March 2006. It was to promote the single 'Suffer Well', and must have slipped under my radar.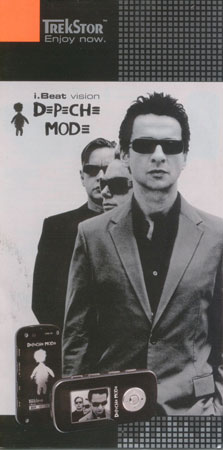 It offered the 'Suffer Well' video pre-loaded, an FM radio, as well as the ability to play a multitude of formats include video and DRM-enabled Windows Media files.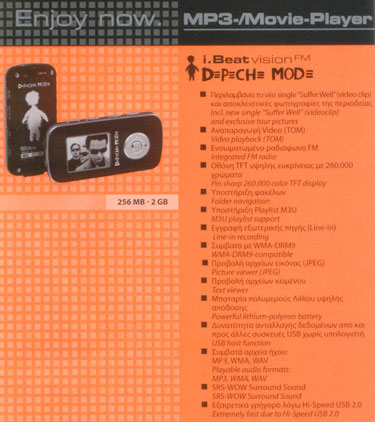 When I left the UK I sold off or got rid of the majority of my vinyl, which means that I am no longer an absolute completist collector of anyone. So fortunately, I don't have to actually track one of these mp3 thingamybobs down.
Incidentally, I've gone on record in the past complaining about the Depeche Mode Remasters series of albums. I was quite irked at being expected to fork out again for albums like 'Ultra' and 'Exciter' which, since they are less than ten years old, ought to have been mastered properly to CD in the first place.
However, the remastered packages also contain a DVD with a documentary about the making of each album. They were written and produced by one of my oldest friends, who I used to work with at 'Note For Note' in Walthamstow. He recently sent me the first three of them after I met up with him in London. It turns out that the documentaries are superb, and the sight of erstwhile dark lord of electronic-goth-rock Martin L. Gore in dungarees, playing a pretend plastic trumpet on Top of The Pops during "Just Can't Get Enough" on the "Speak & Spell" remaster has to be worth the price of admission alone.