Top 50 BBC Podcasts in Google Reader
...well, 49 actually...
When I was compiling my list of the most popular BBC RSS feeds in Google Reader, I noticed subscriber figures for a lot of content from the BBC's download.bbc.co.uk podcast feeds.
I'm not a regular Google Reader user, so I didn't realise that it actually had the facility to play podcasts inline from the RSS reader interface.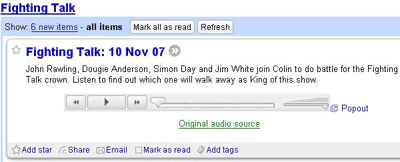 I know that Colin Murray for one gets quite vexed about where his Fighting Talk podcast appears in the iTunes chart, so I thought I would break the podcast data out from my main list, and present a chart of the most popular BBC podcasts in Google Reader.
Colin won't be particularly impressed by the performance of Fighting Talk, although I have subscribed myself which just nudged it above Broadcasting House.
Since I only have a very slow dial-up connection at home in Greece I haven't been able to use any background podcast downloading software. I'm not online all day, and when I am, I want my limited bandwidth reserved for the task I'm trying to perform, not to be hogged by Christian O'Connell or Sandi Toksvig. Google Reader's podcast facility looks like it might be a good compromise for me, allowing me to subscribe to a set of feeds, but only download and listen to them on demand, when I know that is where I want to dedicate my massive 32 Kbps.
Tomorrow I'll be finishing this BBC Google Reader listmania with a 'just for fun bragging rights' look at which football teams attract the most BBC Sport RSS feed subscribers.