The BBC's UK website...brought to you by Airbus
On a good day to bury bad broadcasting news a couple of weeks back the BBC slipped out the message that the BBC Trust had approved adverts on the BBC website for users outside the UK.
They've appeared this evening, and somewhere I never expected them as well.
I have to say that I understood that if you were outside the UK and were looking at the 'UK Edition' of the BBC News site then you were going to get adverts. And the same applied to Sport and I believe Weather. In fact whilst I was there a few weeks back I saw a rather nifty use case diagram illustrating all the ifs, ands and buts of the issue.
But, in all honesty, I never twigged that they were going to appear if you were abroad on the UK edition of the BBC.co.uk homepage as well. The 2004 vintage of the BBC website is never going to go down as a design classic, but honestly, what did it do to deserve this?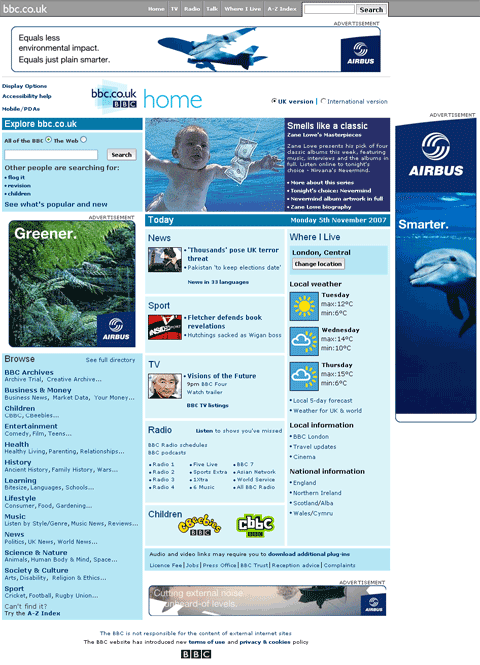 Of rather greater concern is that I saw some really interesting project work on some potential new designs for the page - none of which will seem anywhere near as cool if they have bloody great big adverts splashed across them...