The London freesheets and the web - Part 1: Music reviews
I'm back in London again at the moment, and gaps in visiting your home town can make the differences seem all the greater. On my previous visit, in July of this year, it was the first time that I had been commuting regularly since December 2005.
And that was before what I now believe was generally known as "The Great London Freesheet War" started.
On my last trip I simply couldn't believe quite how much free press was literally being pressed into my hand around the stations of London. The recent controversy over readership figures has illustrated how cut-throat the rivalry between the titles is.
I kept a load of the issues I gathered whilst I was in London, and bought them back to Greece to have a good look over - that is why all of the examples in this series of articles are going to be from July 2007.
As ever, I was interested in how newspaper print operations joined up with their online counterparts.
Over the next few days I'm going to be looking at how the free newspapers in London utilise their online properties in their print editions, and how they make use of user interaction and user generated content. Starting with music reviews.
Music reviews
The London Lite seems particularly keen on using readers as entertainment critics. Understandably so - after all if you are not charging a cover price for the paper, then having contributors who don't charge either makes sense.
Their music listings page features 'Gigblogs' - mini reviews made from content lifted from thisislondon.co.uk/music.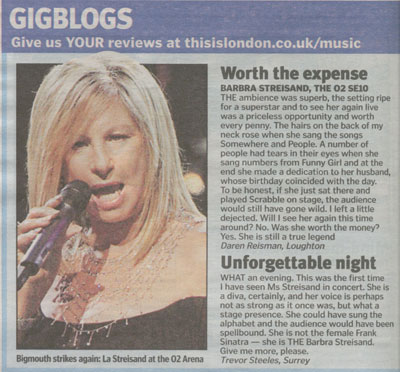 I'd ask the awkward question about how they got content for the first couple of issues without 'spoofing' it like reality TV would have done, but since This Is London has been an established web property for some time, I guess that wasn't a problem for them.
The people who have written the reviews get credited with a name and location - but there is no link back to anything more detailed than the top-level /music address on the site. The London Lite doesn't, for example, entice users back to the web to read more reviews of a particular artist or show with a specific link.
The user generated review format also precludes them from featuring as a ticket sales generator anything that is a one-off show on the capital's gig circuit. Some professional journalists may appear to file their gig review copy without the show having taken place yet, but you don't tend to get user-generated reviews of an as-yet-to-happen show.
Apart from the big featured reviews within the listings, The London Lite also publish a call to action in their Sound & Lite column.
POST YOUR iBLOG MUSIC REVIEWS AT thisislondon.co.uk
The Sound & Lite column features the top 10 singles and top 10 albums - although not the top tracks from last.fm as Music Week now does - alongside a couple of reviews. One comes from a staffer, but the other is lifted from the iBlogs at thisislondon.co.uk.

Over at The London Paper, there doesn't seemed to have a user-generated music review policy, but instead has a busker-generated music policy. Their site - thelondonpaper.com - is a partner in the London busking minisite run in co-operation with Capital FM.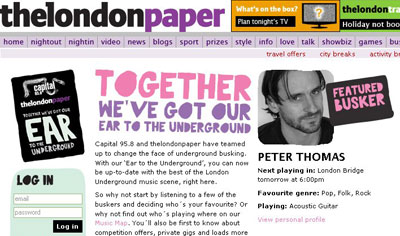 Tomorrow I'll be looking at how the freesheets use their readers for film reviews and celebrity spotting.