The London freesheets and the web - Part 4: Sport
I've been writing a series of posts about how the London freesheets utilise user-generated content and their web properties in their print editions. Today I want to look at a subject area where they all seem keen to print their reader's voices or get their interaction - sport.
Sport - London Lite
The London Lite includes a box-out column of user-generated content that has been sent in via SMS or email. They encourage the audience to "Have your say on any sporting subject" via a shortcode, or the appropriately named email address rant@thisislondon.co.uk.

I can't say I entirely approve of the puntastic 'Lite & Bitter' strapline however!
Sport - The London Paper
The London Paper meanwhile, steers comment from their sport loving readers. Each day they publish a selection of "Your views" about sport, which are driven by a question asked the previous day.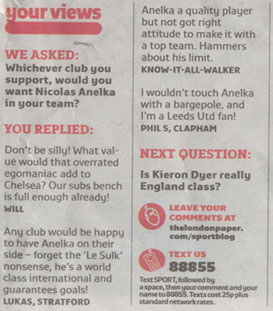 Comments can be left either via an SMS shortcode, or by posting to thelondonpaper.com/sportblog
The London Paper also features a 'betting' column which is sponsored by some direct product placement that I suspect would never be allowed on TV screens. [1]

Sport - Metro
The Metro actually goes against the grain in this area. The sport pages are littered with calls to action to go to metro.co.uk for the latest sport news.

However, this seems to be one-way traffic, with no explicit place for user's to publish their sporting views.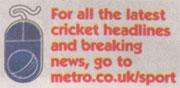 In the next part of this series, later this week, I'll be looking at how the free London newspapers handle the traditional 'Letters to the Editors' page.


[1] Although having seen some of BBC Breakfast the other week where the backdrop to a piece on online gambling was a massive screenshot of the banner of an online casino site, I'm not so sure. [Return to article]