Happy birthday Radio One - Established 1967
Today is the 40th anniversary of national institution Radio One. To celebrate they have emulated the NME's Ruby Trax compilation, getting modern artists to cover the 'classics' of yesteryear.

I've never been a great consumer of radio myself.
I used to listen to John Peel late at might, and the Annie Nightingale request show on a Sunday during my tweenage years, and before that I'd often hear the top 40 countdown in the car on the way back from visiting my nan. Apart from the odd late night specialist reggae show on Capital, that was about the sum of my consumption.

I do have some distinct memories of Radio One though, including hearing the remixed single version of Duran Duran's "The Reflex" for the first time on Five Forty-Fives, and being forced to endure a compilation tape of the 'funny' bits of Steve Wright put together by a mate.
I also remember painstakingly applying little stickers to my family's suite of radios when the BBC frequencies changed in late 70s.
I've never been able to find a picture of these (as I remember them) little orange and blue diamonds that must have splattered across the nation's radios like a rash - but here's a similar set from a later re-org of the BBC's frequency allocation.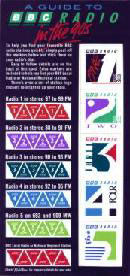 In 1987 I also spent a summer working in a factory that had Radio One blaring out all day, so I'm unfortunately rather more familiar with Star Trekkin', China In Your Hand and You Win Again than I'd like to be.
More recently I used to religiously listen to Mark and Lard's lunchtime show using internet streaming at my desk in the early 2000s, and that's about it.
These days the radio I consume is mostly done via podcast (Fighting Talk and the Christian O'Connell podcast were absolute lifesavers when I was living in Salzburg) or is listening to live sporting coverage.
One of my disappointments with my Nokia N95 is that it includes an FM radio which I will never use, whereas had it included either DAB or MW, it would have been able to replace my trusty Roberts sport radio, which I carry around in my bag to listen to Radio Five Live and TalkSport.
The Radio One Established 1967 site has got some great little features on it though, including a fantastic little flash based game where you can operate the old jingle catridges and imagine yourself as the Tony Blackburn, Noel Edmonds or Simon Bates of yesteryear.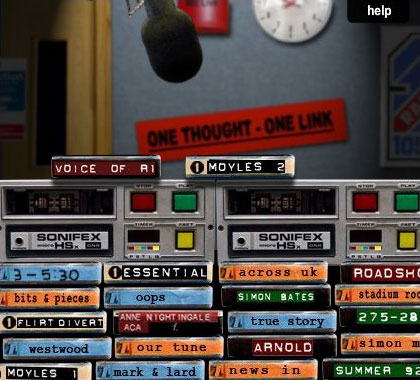 I'm not quite so impressed with the page detailing the track-list of the 'Established 1967', not least of which because of the details themselves.
As Alexis Petridis wrote in The Guardian on Friday:
'On Monday, Radio 1 celebrates its 40th anniversary by releasing the worst album of the year. Called Established 1967, it features "40 years of hits covered by 40 [of] today's biggest acts", and seems to have been put together by someone who hates music, with the express intention of turning everybody else around to his or her point of view'
Nor did it escape my attention that 1992 is being represented by 'It Must Be Love' from Madness because it got re-released that year on the back of being in 'The Tall Guy' soundtrack and Midland Bank adverts, rather than 1981 when it was recorded.

I also just couldn't help wondering whether the production team couldn't have put Google's Image Search to better use than turning up these battered old record sleeves to illustrate the original tracks!