The Sun's Dream Team debut nightmare
One of the most exciting weekends of the year has just passed - the start of the football season.
And it all went pretty well for my teams. Well, if the best you can hope for is to finish the weekend on -12 like Leeds did, that is as good as it gets anyway.
This year I've been dragged into doing The Sun's Dream Team Fantasy Football and joining one of the mini-leagues with a few friends back in the UK.
You might recall that the BBC had to stop doing their own free Fantasy Football game following the DCMS review by Graf into their online activities. It was deemed, correctly in my view, to be distorting the market and inhibiting the commercial revenue generation potential by others, for what was a non-public service activity.
Given that, and the restrictions elsewhere on BBC News staff contributing columns to newspapers or magazines, I've always been a bit surprised that Match Of The Day and regular BBC Sport online pundit Alan Hansen is able to be the face of The Telegraph's Fantasy Football competition, which this year is sponsored by rival broadcaster Setanta.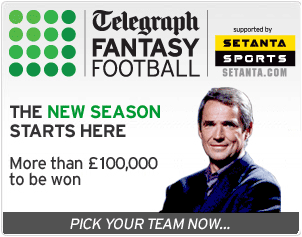 Nobody likes to flop on their debut though, which appears to have been the case with The Sun's Dream Team.
Like everybody else who joined, this week is key to retaining my interest throughout the season, and to keeping me as an active participant willing to shell out £1.20 for each transfer during the course of the next ten months.
However, on Sunday the points from Saturday's opening fixtures hadn't been allocated to the players, and yesterday it got worse. Between 3pm and at least 11pm UK time, The Sun's Dream Team site was down with the apologetic, if slightly cryptic, message that:
OUR APOLOGIES: SITE TEMPORARILY UNAVAILABLE
To help speed up this process, we have temporarily taken the website offline.
We are sorry for any inconvenience - please check back later today.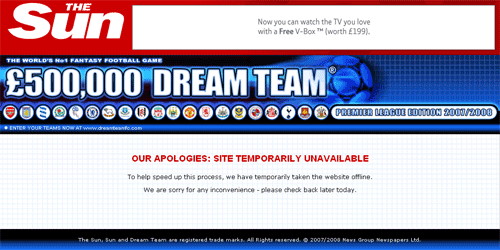 Not so much Dream Team, more a bit of a nightmare.
Rather like my own AFC Chania selection turned out to be when I could get logged on this morning.