Today's burning question: "What will the weather be like on the UK's Bank Holiday?"
I've set off today for a 10-day road trip around Crete, to explore the eastern half of the island which I have been calling home for a year, but haven't really explored yet.
Thanks to the joy of scheduled publishing and the ./tools/run-periodic-tasks cron job, you shouldn't see any interuption to my blogging on currybetdotnet - although it does mean that the spelling mistakes I only ever seem to pick up after publication will be sitting there live for a bit longer than usual.
It also means that although I'll be leaving the comments open, I won't be moderating them until I get back. Which will presumably be to an inbox full of thousands of people telling me what a great site I have whilst linking out to pr0n and pharms.
So, without access to the internet there is one burning question today that I won't be able to answer - what will the Bank Holiday weather be like in the UK?
I only ask, because last Friday in Chania I picked up a copy of the previous day's Telegraph, and read this story.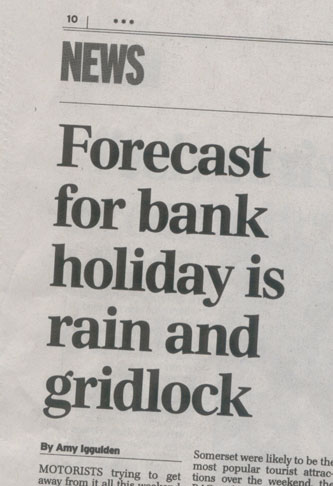 Which I thought was odd, because I was fairly certain that at the news stand I had seen yet another Daily Express weather front page - promising the exact opposite.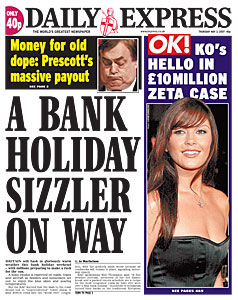 Now, they can't both be right, surely - so will someone let me know in the comments how the day panned out?

Personally, here in Crete I'm expecting 26°, and just praying the air-con works in our hired car.