Daily Express RSS feed 404s
Often when people first start out blogging they are advised that making their content available as RSS feeds is a great way of potentially growing their audience.
It took British newspapers quite a while to learn this lesson, and it is only in the last year or so that all the major newspapers have started offering RSS feeds.
Some of them are still a bit clumsy about letting people know where they are. Last year I noted that The Guardian was having trouble publicising the RSS feed for their special World Cup content.
At the moment it is The Daily Express that is having problems.
Despite having spent the time making an RSS help page that enforces users accepting the Daily Express terms and conditions before being able to utilise the feeds, they have got 3 of the addresses of their RSS feeds wrong.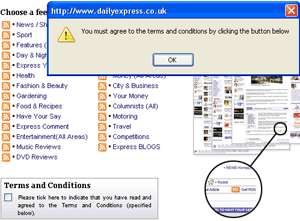 Currently, for example, the feed address for The Daily Express blogs is given on the page as http://www.express.co.uk/rss/expressblogs.xml.

Instead of taking users to the RSS feed, this address leads them to the Daily Express site map 404 page. In fact, the working feed can be found at http://www.express.co.uk/rss/blogs.xml. It is little surprise then that I found it has no subscribers in Bloglines yet.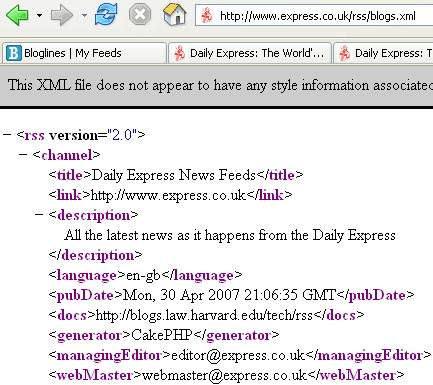 Likewise the TV Guide and City & Business feed links are broken.
At least the site has a custom 404 page that allows users to navigate onwards, but it is pretty poor for the self-styled "World's Greatest Newspaper" to get one in nine links wrong on a page whose sole purpose is to provide those links.