The Sun's MY Sun registration systems and odd date range behaviour

by
Martin Belam
, 11 April 2007
When I was looking at The Sun's online registration functionality to research my Easter Bunnies competition post, I noticed something odd about the date range they offered, which is a mistake commonly made across the web.
In the wireframes I've made for Sony NetServices, I've always specified the date-range to be displayed, and the order in which it should be displayed. Not everybody seems to think this through though.
The Sun's registration process asks for a birthdate, and gets the user to choose the year of their birth from a drop-down menu. The list of options starts with 1901. I'm not sure how many 106 year olds they are expecting to sign up to their service, but I bet it can't be many.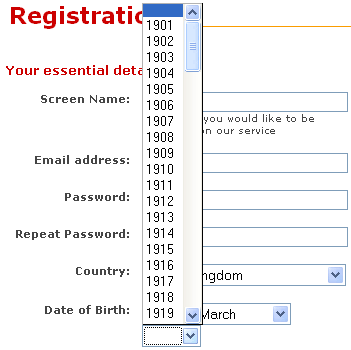 The natural instinct for the user is then to scroll down the list - but scrolling all the way down takes you to the year 2007.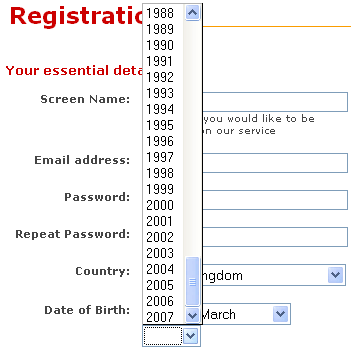 Again, I'm left wondering how many 3 month olds want to join The Sun's MY Sun online community.
It is even more irritating though, since the service is for the over-18s only.

Entering a birthdate between the years of 2007 and 1990 returns a warning about it - so why list the extra invalid 17 years at all?