Where do you go to complain about spammy Google adverts in the UK
Google AdSense has been a successful product because it manages to act seamlessly as the broker between publisher and advertiser, but one of the problems with Google's contextual advertising is that is open to abuse. Most of the time a judicious bit of common sense can steer you clear of the extreme cases, but on Friday I noticed some AdSense abuse that I was astonished had escaped the Google quality detection net.
A post on a friend's blog featured a block of Google powered adverts, three of which featured very similar copy, and didn't seem on topic at all.

Clicking through on them led to a typical made-for-AdSense site. The page was plastered with different formats of Google adverts, and it featured barely enough copy to make out that the page was about the subject it had advertised for - dieting.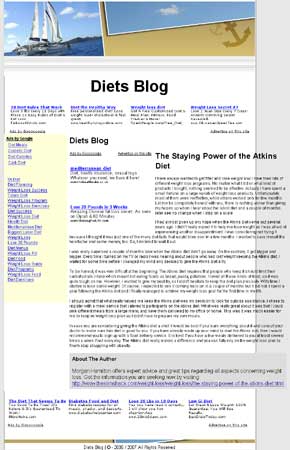 All three adverts led to variations on the same layout, which looked machine generated.
One of them was specifically breaking Google's terms and conditions of advertisement placement by having images directly associated with the adverts via the none-too-subtle device of giant yellow arrows.

Another of the sites did a crafty re-direct and then re-direct back again, so that if you clicked the back button in your browser you ended at another made-for-AdSense page, rather than back at the blog you had come from.
The URLs of these pages also had elements that should have been red flags to Google's abuse detecting algorithm - ppc=google+u241.com&cpn=diets+blog represents a pretty crude tracking device when tacked onto the end of the web addresses. Plus the domain names themselves were nonsensical - very short, but not made up of dictionary words - u241.com, av-6.com and 2y51.com.
I accept, of course, making a scalable automated contextual advertising system that spans the web is no easy task, and not all adverts can be checked by hand.
The bigger issue in the UK, however, is that almost by stealth Google has become the second biggest destination for UK advertising revenue. Not only is all of that revenue disappearing out of the UK media ecosystem into the U.S. economy, but the regulatory framework around Google's advertising is unclear. The web falls under Ofcom's remit, advertising under ASA's remit, but it isn't clear to me that either of them have any power over the advertising published by Google Inc on UK based web properties or Google search results.
If I wanted to make a complaint about misleading advertising appearing in UK magazines or street posters, I know exactly where to go. If I want to make a complaint in the UK about the sites mentioned above, where would I start?