The White Horse bridge comes back to haunt me in Salzburg

by
Martin Belam
, 30 March 2007
It is funny how things can come back to haunt you - in the way the F.A. are currently being haunted by their decision to employ Steve McClaren for the England job. With the much delayed opening of the new Wembley stadium taking place last weekend, it was the White Horse bridge that came back to haunt me.
A couple of years back I worked on the vote, hosted by the BBC's Radio Five Live station, to determine the name of the pedestrian bridge at the new Wembley stadium.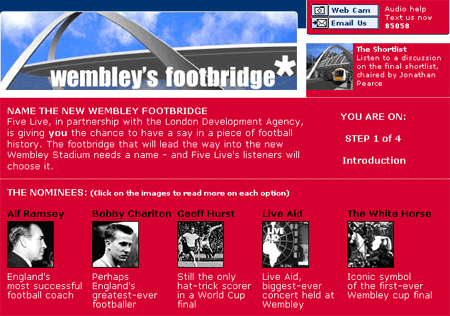 So, imagine my surprise in an Irish pub in Salzburg at the weekend, whilst waiting for England's inert performance against Israel to start, to hear the guys on the table behind me talking about it as if it was still going on.
"They are having an internet poll to name the bridge there. The Gerries have been voting, and Didi Hamann is in the lead"
Actually, there were more votes in the initial nomination period for Dietmar Hamann than anyone else, but he got discounted from the shortlist. And that was all two years ago.
It wasn't the only White Horse reference I picked up on Saturday.
With it being my last weekend in Austria, I treated myself to an English newspaper, which meant I read Russell Brand's column in The Guardian - "All Wembley needs now"
"Funny to think the the reason there's so many White Horse pubs around East London is because of the famous 'White Horse Final', when Bolton triumphed over the Irons and a hundred thousand excess people turned up causing peaceful bother in the presence of the King, and one of the horses the mounted police were upon - I believe it were called Billie - was white. That tells us something of the power of image; there were loads of horses there that day. And policemen. And footballers. And the King of England, for Christ's sake but none of those things were deemed fit to entitle the first final because of the tyranny of iconography"
He isn't wrong about that.
One of the newspaper front pages that appeared in the British Library's "Front Page" exhibition was coverage of this match - pointing out that even in the iconic photograph which appears to show Billie single-handedly turning back the crowds, he is clearly part of a line of horses doing the job. It is just that with the more primitive photography and print techniques of the time, the white horse is the only detail that stands out in the photo.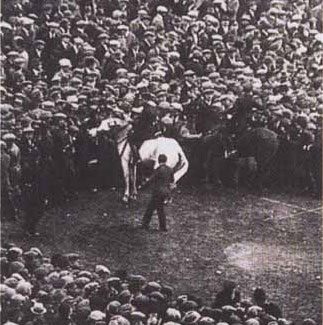 Going back to the bridge that is named after Billie, rather than the anonymous horse to his right in that photo, the confusion exhibited by the guys behind me at the weekend went on. The bloke's friend said in reply to his assertion that Didi Hamann was leading the internet vote:
"Didn't it used to be called the White Horse Bridge?"