Search Engine Land's social bookmarking faux pas
Neil Patel, in an article on Search Engine Land yesterday, talked about the way social networking widgets are placed on websites.

These have been appearing like a rash across the web, especially since the SEO crowd spotted their potential for helping to generate a lot of incoming links to their content, with a minimum amount of promotional effort.
Neil was arguing that placing the widgets on most pages on a site reduces their impact, since they begin to blend into the background - suffering the web 2.0 equivalent of banner blindness.
He also went on to argue that instead of scattering potential votes throughout the whole social bookmarking ecosphere, an individual article should concentrate on gaining votes on one particular service, and that only articles likely to generate a lot of votes should bother to display them.
The article came on the same day that, as an experiment, I've placed on this site a couple of buttons for bookmarking and subscribing to my RSS feed from the Add This.com service. Add This.com collect usage data, and so I'll be able to judge whether they are used much or not.

I suspect they won't be, as my understanding of the audience for currybetdotnet has it divided into two distinct camps.
One is an ultra-tech-savvy group of hardocre readers of the site who mostly consume it or click into it via the RSS feed. Then there is a second larger pool of random visitors who stumble in via search engine queries.
My suspicion is that the former will already have their own favourite way of bookmarking sites integrated into their browser, and that the latter will not be very aware of services like Digg or Reddit, or of the potential of subscribing to RSS feeds. We'll see.
There was one delicious piece of irony though about Neil Patel's Search Engine Land article - or should that be del.icio.us bit of irony?
Just like every blog article on Search Engine Land, underneath his reasoned plea not to over-use social bookmarking widgets, were links to Digg, del.icio.us, Reddit, Netscape, StumbleUpon, Google Bookmarks, Furl, Fark, Facebook, Yahoo! MyWeb2, Seed and Technorati.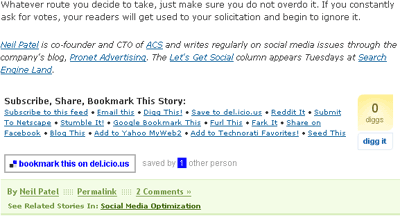 Credit where credit is due though, Danny almost instantly responded when I pointed it out the irony of it on the Search Engine Land site itself.