You can't always trust a hotel reservation from Expedia in a crisis
One of the biggest stories in the UK last week was the weather on Thursday 18th, which caused havoc across the country. I was travelling with my wife during the day and got caught up in the chaos. I was going from Stonehaven to Oxenholme in the Lake District, and due to a 50mph speed restriction placed on trains, I arrived at my destination around 45 minutes late. I wasn't too bothered by that - better safe than sorry.
My wife, however, was much less fortunate. She left Stonehaven at 8:12 bound for London, but thanks to the weather and speed restrictions, by 15:30 or so she had only got as far as Doncaster, when her train was cancelled and she was left stranded. Whilst it was inconvenient, it was not nearly as difficult a situation as it would have been a few years ago. One mobile phone call to me, and a quick burst of internet activity on my behalf later, and I had found her a hotel to stay for the night. I booked a room at the Earl of Doncaster hotel through Expedia for 79.00GBP.
All that remained was for her to get herself into a taxi from the station to the hotel, and then all would be well. That proved to take a little while, as obviously there was a high demand for taxis, so it wasn't unitl gone 6pm that she reached the Earl of Doncaster, only to be told that there was no reservation for her.
She phoned me again, and I was able to give her the details of the confirmation email of the transaction sent to me by Expedia, which stated that "Reservation has been confirmed by Earl of Doncaster Hotel", and included a transaction number from Expedia and a confirmation number from the hotel.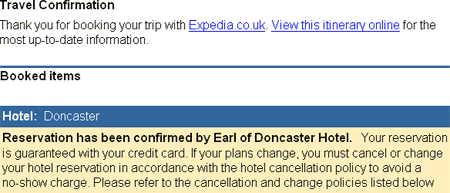 Nothing doing.
The person on reception at the hotel explained to my wife that just because we have been sent an email by Expedia that says the booking has been confirmed by the hotel, doesn't mean that it has. So my wife had no room booked, and there was no space left at the hotel.
Fortunately she was persistent and angry enough at reception that eventually the Earl of Doncaster hotel phoned around to find a room for her in a pub, and covered her taxi fare to make the journey there.
However, I've still had no further communication from Expedia beyond their initial confirmation email. As far as their system seems to be concerned, the reservation was made and my wife stayed there the night. I am now waiting to see whether I get any charges from them.