I'm loving Google's Blogger Web Comments for Firefox extension
Whilst I enjoyed Brian Kelly's talk about Web 2.0 at the AUKML conference, it was one of those occasions where I could sit in the audience and nod sagely, safe in the knowledge that I was probably the only person in the audience who had heard of all of the services he mentioned, and things like the concept of service "mash-ups".
However, in conversation during the weekend, Brian did introduce me to something I hadn't encountered before - Google's Blogger Web Comments for Firefox extension.
This wondrous little gizmo checks to see if there are any pages indexed by Google's blog search that reference the page you are currently viewing in Firefox. If there are, a short extract and a link pops-up in a little window to the bottom right of your instance of Firefox alerting you to them.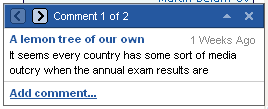 Although the name implies that the extension is tied into Blogger, it is only the "Add Comment" functionality that requires you to have your blog hosted on Blogger, and that isn't really for me the main use of it.
I've already got very attached to having it installed. It is great way to follow how a story or event has been commented on across the web without having to leave the site you are visiting, and it is useful from a webmaster point of view to see which blogs are linking to specific pages on your own site.
The only time it doesn't work so well is when you are visiting the top-level domains of big sites like BBC News or Apple, where the number of comments is overwhelming, and a lot of them are just simply where people have linked to the page in passing as they mention the entity involved. It does though work really well at a granular level on news sites, where you can find blogs that have posted about individual stories very quickly.